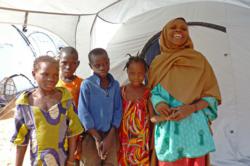 We are pleased we can apply the ShelterBox solution in conjunction with other partners to address the needs of vulnerable families displaced by circumstances well beyond their control.
Sarasota, Fla. (PRWEB) September 27, 2012
ShelterBox USA, an international humanitarian relief organization that provides emergency shelter and lifesaving equipment to disaster survivors worldwide, aims to aid 1,000 families in the Sahel region of West Africa as part of its Clinton Global Initiative (CGI) commitment.
Families in the Sahel region are suffering from multiple crises, including severe drought, causing food shortages; heavy rains and flooding in other areas, causing families to lose their homes; and ongoing conflict and political instability, causing tens of thousands of Malian refugees to flee into neighboring countries.
ShelterBox responds to disasters such as hurricane, earthquake, flood, tsunami or conflict by delivering high-quality tented shelter and other supplies to help families rebuild their lives in the days, weeks and months following a disaster.
In its eighth year, the Clinton Global Initiative Annual Meeting connects and inspires its members, including public-, private- and social-sector leaders to find innovative solutions to the world's most pressing challenges. Annually, the initiative asks its members to make a commitment to address those challenges, from women's and economic empowerment to energy efficiency and global healthcare.
To address the needs of those impacted by food insecurity and flooding in West Africa, ShelterBox partnered with other organizations and companies, including UPS, which provided charter flights to transport aid to the region, and will continue to work with other CGI members in its response.
"The Clinton Global Initiative asks its members to address challenging global issues through innovation and collaboration," said Emily Sperling, ShelterBox USA president. "We are pleased we can apply the ShelterBox solution in conjunction with other partners to address the needs of vulnerable families displaced by circumstances well beyond their control."
FOOD INSECURITY, CONFLICT AND POLITICAL INSTABILITY IN THE REGION
The Sahel region in West Africa is suffering from severe drought. According to the European Commission Humanitarian Aid and Civil Project ECHO Report, more than 18.7 million people lack access to sufficient food.
In Mali, one of the region's most impacted countries, food insecurity, coupled with conflict and political instability, is creating forced displacement of people as they flee over the border into neighboring countries.
Within Mali, there are approximately 200,000 internally displaced persons, with 190,000 Malian refugees in surrounding countries as cited by the United Nations Office for the Coordination of Humanitarian Affairs. Many Malians have fled to Niger, where, according to the UNHCR, more than 40,000 refugees from Mali had entered as of May 2012.
Malian refugees arriving in Niger are without adequate shelter to protect them from the elements, including extreme heat during the day and cold temperatures at night, and provide them with basic security, privacy and dignity.
Inadequate shelter can be a major factor in refugee health and survival, especially in regard to protection against disease outbreaks. In addition, parts of Niger are experiencing what some reports are calling the worst flooding in 80 years and thousands of Nigerian families have been left homeless. The country's already limited response capabilities are being overburdened by competing disasters.
SHELTERBOX SUPPLIES FOR APPROXIMATELY 1,000 FAMILIES
To aid Malian families seeking refuge in Niger and Nigerian families left homeless by heavy flooding in the region, ShelterBox will provide approximately 1,000 high-quality family tents designed to withstand extreme temperatures, intense UV light, high winds, and heavy rainfall. In addition, ShelterBox will provide 500 families with treated mosquito nets and microbiological water purifiers.
To further assess need and distribute aid, ShelterBox will utilize its highly-trained volunteers and coordinate with established NGO partners and the government of Niger.
ShelterBox welcomes partners interested in providing financial resources to expand the number of families provided with emergency shelter in the Sahel region and other areas around the world.
ABOUT CLINTON GLOBAL INITIATIVE (CGI)
Established in 2005 by President Bill Clinton, the Clinton Global Initiative (CGI) convenes global leaders to create and implement innovative solutions to the world's most pressing challenges. CGI Annual Meetings have brought together more than 150 heads of state, 20 Nobel Prize laureates, and hundreds of leading CEOs, heads of foundations and NGOs, major philanthropists, and members of the media. To date CGI members have made more than 2,100 commitments, which are already improving the lives of nearly 400 million people in more than 180 countries. When fully funded and implemented, these commitments will be valued at $69.2 billion.
CGI's Annual Meeting is held each September in New York City. CGI also convenes CGI America, a meeting focused on collaborative solutions to economic recovery in the United States, and CGI University (CGI U), which brings together undergraduate and graduate students to address pressing challenges in their community or around the world. For more information, visit clintonglobalinitiative.org and follow us on Twitter @ClintonGlobal and Facebook at facebook.com/clintonglobalinitiative.
ABOUT SHELTERBOX USA
Since 2000, ShelterBox has provided shelter, warmth and dignity following more than 180 disasters in over 80 countries, including Haiti, Japan, Brazil, Turkey, the U.S. and more. ShelterBox instantly responds to earthquake, volcano, flood, hurricane, cyclone, tsunami or conflict by delivering boxes of aid. Each iconic green ShelterBox contains a disaster relief tent for an extended family, stove, blankets and water filtration system, among other tools for survival. ShelterBox's American affiliate, ShelterBox USA is headquartered in Sarasota, Florida. Individual tax-deductible donations to ShelterBox USA can be made at http://www.shelterboxusa.org, (941) 907-6036 or via text message by sending SHELTER to 20222 for a one-time $10 donation.