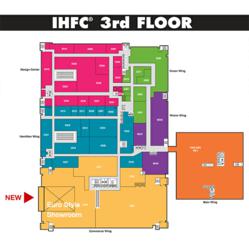 We love this new showroom – at last we can show all our products in a perfect setting, we anticipate a great response from all.
- Trig Liljestrand, President.
San Francisco, CA (PRWEB) September 30, 2012
The Euro Style High Point Showroom has moved into a new 20,000 sq. ft. showroom in the IHFC building, C354 and C332 and Home Furnishings Business, the leader in home furnishing news, has detail their expansion! Click [HERE to read the full article – summary below:
Euro Style continues to show a wide assortment of new home office, dining, bar and occasional collections and the additional square footage is necessary to properly showcase the new outdoor furniture and Contract divisions.
Centrally located on the third floor of the Commerce wing lobby, the new space showcases the recently added outdoor furniture and their new Contract division.
Euro Style is a wholesale RTA furniture company with factories in Italy, Spain and East Asia. The company's high style products are sold at promotional and medium price points.
Customers can order Euro Style products from their US warehouse or by factory direct container programs. The company ships out of its Northern California Warehouse the next business day after orders are placed.
Administrative offices are in San Rafael, California, the High Point, North Carolina Show Room is located in the IHFC Building C354 and C332, and the Las Vegas Showroom is located in the World Market Center B-601 and B-675.