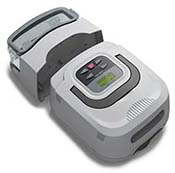 A Great CPAP for Under $400.00
Houston, Texas (PRWEB) September 28, 2012
Sleep Restfully, Inc. has been appointed an authorize distributor for the RESmart CPAP by 3B Products. The RESmart has previously only been available to the sleep apnea community in Europe. This new introduced high quality CPAP machine combines features normally found on more expensive CPAP machines with a user friendly interface. Priced at under $400.00 there has never been a better time to move your CPAP therapy to the next level.
RESmart CPAP adopts advanced sensor technology, automatically tracking patients' respiratory condition. The intelligent control system provides patients the reliable therapy of Obstructive Sleep Apnea (OSA).
Reliable stability

Adopting the special designed air pump, RESmart provides users stable 4 – 20 cm H2O therapy pressure.
Ramp capabilities allow a 0-60 minutes time period with adjustable ramp starting pressure.
Inspiration trigger for auto start-up
Automatic stop after put off mask
Alert when accidental power-off
•In time alert function when mask and/or tubing off-line

Automatic leakage and altitude compensation ensure the therapy accuracy anywhere.
Unique Delay-off feature protects RESmart CPAP from humidity hazard.
Ergonomic design
Backlit LCD display for operation in dark
Lighted user buttons with lockup capability
Integrated designed InH2TM heated humidifier
Smart Heater automatic restarts after short term break.
Patented anti-countercurrent water tank
DC 24V powered and infrared controlled humidifier make user safe and comfortable.
Low noise device
The RESmart CPAP weighs is at 3.5 lbs for the CPAP only and 5.3 lbs for the CPAP with Heated Humidifier. The unit measures 8.66" X 7.63" X 4.40" (CPAP only) 12.32" X 7.63" X 4.40" (CPAP with Humidifier). The RESmart is dual voltage meaning you can take it anywhere in the world and never need a converter to operate the machine.
Sleep Restfully has been selling CPAP supplies for many years and has always offered the lowest prices available. For special pricing options and opportunities, call Sleep Restfully at (866) 923-2727.
Sleep Restfully, Inc. places customer service and satisfaction as its highest priority to sleep therapy and oxygen customers. Sleep Restfully, Inc. believes that they are second to none in customer service, which is reflected in their decades of experience and their Better Business rating of "A". Sleep Restfully carries a complete line of sleep therapy supplies and equipment from the best manufacturers in the industry, such as Resmed, Philips Respironics, Fisher & Paykel, and others. In addition to CPAP machines and supplies, Sleep Restfully specializes and carries portable oxygen concentrators. Sleep Restfully offers the best support and prices on portable oxygen concentrators such as the Respironics SimplyGo, Respironics EverGo, Sequel Eclipse 3, Inogen G2, Invacare XPO2, and more. Stationary oxygen concentrators are also carried, such as the Respironics EverFlo and Invacare Perfecto.
Sleep Restfully stocks all replacement parts for CPAP machines, CPAP masks, and portable oxygen concentrators.
Contact Sleep Restfully, Inc. today toll free at (866) 923-2727 or by visiting sleeprestfully.com.