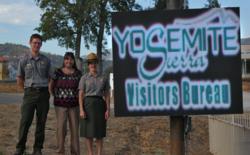 The idea is to get visitors thinking about the many other things to see and do outside of Yosemite Valley during the peak seasons to help alleviate crowds at the busiest times
Oakhurst, CA (PRWEB) September 27, 2012
The Yosemite Sierra Visitors Bureau recently debuted their new digital display sign that was purchased through a cooperative agreement with Yosemite National Park.
The new sign, which measures a little more than five feet tall and six feet wide, will be used to convey messages about road conditions, upcoming events and other important information.
"The idea is to get visitors thinking about the many other things to see and do outside of Yosemite Valley during the peak seasons to help alleviate crowds at the busiest times, and to also facilitate communication during important situations, such as when weather necessitates chain control," said Rhonda Salisbury with the Yosemite Sierra Visitors Bureau.
"The sign is going to be a great tool to help us get across all sorts of important messages to visitors and locals alike," she said.
The funding for the sign came from the park as part of a cooperative agreement the National Park Service entered in to with the YSVB and other destination marketing organizations in the from the four gateway communities.
"This is the same partnership that helped us create the mobile website and the flyer that shows guests the many other things to see and do in the area outside of Yosemite Valley. It's been a very beneficial partnership for all those involved," said Salisbury.
Installed by Mike Muscato of Art Signs out of Oakhurst, the LED sign is capable of displaying full color graphics and video to capture the attention of motorists driving by the visitor center on Highway 41.