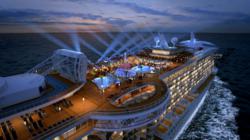 We're placing even more emphasis on our outdoor entertainment options with this new ship. With all of these exciting features on the top decks, passengers will truly enjoy their time under the sun – or stars.
SANTA CLARITA, Calif. (PRWEB) September 27, 2012
Princess Cruises today unveiled additional details about the outdoor entertainment features that will be found on the top deck of the new Royal Princess, including the dramatic SeaWalk, the pool areas, an evening light show and a 30 percent larger Movies Under the Stars poolside theater.
The top deck features are detailed in the company's latest video previewing Royal Princess, viewable at princess.com/royalprincess.
"We're placing even more emphasis on our outdoor entertainment options with this new ship," said Jan Swartz, Princess Cruises executive vice president. "With all of these exciting features on the top decks, passengers will truly enjoy their time under the sun – or stars."
Among the new top-deck features of Royal Princess are:
Sea Walk – Extending 28 feet beyond the starboard side of the ship, the SeaWalk will be one of the ship's most striking features. At 60 feet long and hovering 128 feet above the ocean, this dramatic glass-bottomed walkway offers unparalleled views available on no other ship. Just as the captain on the bridge can look through glass panels in the floor of the bridge to get a look at the sea conditions below, passengers will now have that same sense of stepping out from the side of the ship for a breathtaking experience. Across the ship the SeaView Bar also extends over the waves for cocktails with unbeatable vistas.
Fresh Water Pools – Directly adjacent to the SeaWalk on the ship's expansive top deck area passengers will find a host of lounging options, beautiful palm trees, and two fresh water pools flanking an island area between them. During the day passengers can relax and rejuvenate poolside in a variety of seating options, including circular loungers, garden-style furniture, bar-height tables and stools, and chaise lounges. In the pool areas, entertainment options will include games and live music inspired by the ship's ports of call.
Water and Light Show – At night, the top deck of Royal Princess will transform with architectural lighting effects to set the mood. The island area between the two pools will become a stage showcasing an interactive sound and light show featuring dancing fountains. With a sophisticated lighting and sound system, and a computerized fountain featuring 85 water jets, passengers will marvel as streams of water shoot 33 feet into the night sky.
Movies Under the Stars – Princess' signature poolside theater will feature a 30 percent larger screen for true widescreen viewing, coupled with a high-tech visual and audio system for an unforgettable open-air movie-going experience. Passengers can enjoy movies, sporting events, and concerts while relaxing on a comfortable chaise lounge, complete with pillow, blanket, and free popcorn. For those who'd like to watch from the water, the ship's large whirlpool spas above the pools offer great sightlines for enjoying Movies Under the Stars while soaking.
Evening Entertainment – On select evenings, the island will be transformed into an outdoor dance floor and will play host to the popular Ultimate Deck Party. Perched two decks up on a special balcony, a DJ will get the crowd moving with an energetic music mix.
The 3,600-passenger Royal Princess is a new-generation ship currently under construction for Princess Cruises. Among the special features found on board will be a greatly expanded atrium, the social hub of the ship; a dramatic over-water SeaWalk, a top-deck glass-bottomed walkway extending more than 28 feet beyond the edge of the vessel; plush private poolside cabanas that appear to be floating on the water; the new Princess Live! television studio; a pastry shop; a special Chef's Table Lumiere, a private dining experience that surrounds diners in a curtain of light; and balconies on all outside staterooms. The ship's 2013 maiden season will include cruises on the line's signature Grand Mediterranean itinerary throughout the summer, followed by Eastern Caribbean cruises beginning in the fall. More information and video previews of the ship are available at http://www.princess.com/royalprincess.
Additional information about Princess Cruises is available through a professional travel agent, by calling 1-800-PRINCESS (1-800-774-6237), or by visiting the company's website at http://www.princess.com.
# # #
About Princess Cruises:
One of the best-known names in cruising, Princess Cruises is a global cruise and tour company operating a fleet of 16 modern ships renowned for their innovative design and wide array of choices in dining, entertainment and amenities, all provided in an environment of exceptional customer service. Two ships are under construction and will join the fleet in 2013 and 2014. A recognized leader in worldwide cruising, Princess carries 1.3 million passengers each year to destinations around the globe ranging in length from three to 107 days. The company is part of Carnival Corporation & plc.
Princess Cruises is a proud member of World's Leading Cruise Lines. Our exclusive alliance also includes Carnival Cruise Lines, Holland America, Cunard Line, Costa Cruises and Seabourn. Sharing a passion to please each guest and a commitment to quality and value, World's Leading Cruise Lines inspires people to discover their best vacation experience. Together, we offer a variety of exciting and enriching cruise vacations to the world's most desirable destinations. Visit us at http://www.worldsleadingcruiselines.com.
Find us:
Blog: InspiredToCruise.com
Facebook: facebook.com/PrincessCruises
Twitter: twitter.com/PrincessCruises
YouTube: youtube.com/princesscruises
Flickr: flickr.com/photos/princesscruises
Pandora: princess.com/radio
Newsroom: princess.com/news
Google+: plus.google.com/112949289750199509638/posts
Pinterest: pinterest.com/princesscruises/
For further information contact:
Karen Candy, kcandy(at)princesscruises(dot)com, 661-753-1540
Julie Benson, jbenson(at)princesscruises(dot)com, 661-753-1530