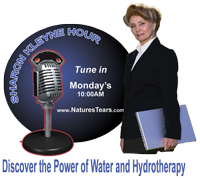 Grants Pass, OR (PRWEB) September 28, 2012
Dr. Campbell has been a guest on the Sharon Kleyne Hour Power of Water radio show (August 9, 2010). Sharon Kleyne has also interviewed another best-selling vegan diet proponent, Caldwell Esselstyn, MD, author of Prevent and Reverse Heart Disease (April 9, 2012), and Philip Paden, MD (Nov. 12, 2011), an Ophthalmologist and protege of Drs. Campbell and Esselstyn.
Podcasts of all three interviews may be heard on WorldTalkRadio.com, Sharon Kleyne Hour.com Apple iTunes and VoiceAmerica.
In a recent Wall Street Journal article (September 17, 2012), T. Colin Campbell, PhD, vegan (plant based) diet advocate and author of the best selling, The China Study, wrote that his nutritional research findings, "Pointed away from meat and milk as the building blocks of a healthy diet and towards whole, plant based foods with little or no added oil, sugar or salt."
Esselstyn's book, Prevent and Reverse Heart Disease, describes a Cleveland Clinic study of 24 patients with advanced cardiovascular disease placed on a strict, oil-free vegan diet. Twenty years later, 22 patients were still alive and not one experienced a recurrence of coronary artery problems (two died of unrelated causes).
"Imagine millions of people," Dr. Esselstyn writes, "running across a field towards a cliff, and then falling to their deaths. Modern medicine largely treats coronary artery disease by standing at the base of the cliff attempting to patch everyone up. Many more lives could be saved by standing at the top and urging people to run in a different direction."
Campbell's book, The China Study, describes a comprehensive rural health study in China, measuring the rate and distribution of cancer. People in areas with the lowest cancer rates tended to eat far less meat and processed foods. The United States cancer rate varies much less and is high everywhere.
Dr. Campbell has spent 50 years as a researcher in nutrition and biochemistry, the majority at Cornell University. He is particularly interested in the relationship between dietary protein and cancer. He has concluded that protein should constitute no more than 8% to 10% of our diet and that whole plants contain 10% to 12% protein while animal muscle tissue contains a far higher percentage. Over-consumption of animal protein could lead to osteoporosis, kidney stones and cancer. Protein in the average United States diet is 20% or more.
Dr. Esselstyn explained to Sharon Kleyne that to prevent or reverse arterial plaque buildup, certain foods should be avoided or eliminated: (1) Red meat, (2) chicken and poultry, (3) fish, (4) dairy products (milk, yogurt, ice cream, sherbet, cheese and any product containing "caseinate"), (5) eggs, egg whites and egg substitute that contain egg, (6) no oil whatsoever, including olive and canola oil, (7) whole grains only, no refined flour products or white rice, (8) fruit juice, (9) nuts, (10) avocados, (11) coconuts, (12) be cautious with soy products, which may be processed and heavy in oil and salt. Light tofu is fine, soy cheese is not.
Dr. Paden became interested in nutrition and eye health after observing that many of his cataract and macular degeneration patients suffered from diabetes and other threatening diseases. It is well known that diet causes adult onset diabetes and Dr. Paden now discusses nutrition and health with all his patients.
Dr. Paden noted that while the incidence of blindness in the United States is lower than in Africa and Asia, it's not much lower. In Africa, blindness is usually related to sanitation and infection. In the United States, it is usually related to diseases of aging, and to systemic disorders such as glaucoma and macular degeneration, which are often diet related.
According to Dr. Paden, the American diet is "awful" and results in high rates of heart disease, cancer and diabetes, diseases considered insignificant 100 years ago. Sharon Kleyne cautions that anytime you do not feel energized after a meal, your food probably had nutritional deficiencies. Sharon agrees with Drs. Cambell, Esselstyn and Paden that with research and education, we all have the power to proactively improve our diet for better health and greater productivity and a longer life.
The Sharon Kleyne Hour Power of Water is broadcast live on Mondays, 10 a.m., PST/PDT. The syndicated talk show is heard on Voice America/World Talk Radio, Green Talk Network and Apple iTunes. Go to http://www.SharonKleyneHour.com for written summaries and on-demand podcast replays.
© 2012 Bio-Logic Aqua Research