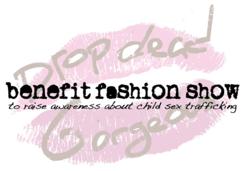 The fashion & entertainment industries sometimes serve as a vehicle to lure youth into the world of sexual exploitation. DDG utilizes its influence over culture through awareness, education, and giving, states Susan Muscari Komoto, Exec. Dir. of DDG.
Atlanta, GA (PRWEB) September 28, 2012
According to the FBI, Atlanta ranks as one of the top 14 cities in the nation for child sex trafficking, but most Atlanta residents have no idea this issue exists in their city.
On October 18, Drop Dead Gorgeous (DDG™), a nonprofit organization, will address this issue through it's 4th Annual Fashion Benefit at 103 West hosted by Honorary Event Chair Mayor Kasim Reed, Mistress of Ceremo-nies CNN's Kyra Phillips, and Event Chairs Wendy Babchin, Evia Golde, and Anita Leopold. The evening includes a cocktail reception with featuring food by 103 West, wine by Jekyll Island Reserve, and cocktails by National Dis-tributing Company. Lavish silent and live auctions will be followed by Keynote Speakers DDG™ Executive Direc-tor Susan Muscari Komoto and DDG™ Board Chair Bronni Karatassos. First annual Lifetime Achievement Awards will be presented to Mary Frances Bowley, President of Wellspring Living, Holli Hines-Easton, Advocate for Wom-en and Children, and Vikki Locke, Morning Show Host at B98.5. The evening concludes with a runway show fea-turing ladies clothing from Elie Tahari, children's clothing from McCall Wilder Children's Couture, and a special collection from up and coming designer DeRon Miller of Audacious Apparel. Proceeds will benefit Wellspring Liv-ing for Girls, a restorative environment for victims of childhood trauma and sexual exploitation.
DDG™ is a 501c3 organization, which utilizes the fashion, entertainment, and sports industries as its ve-hicle to reduce demand for the Commercial Sexual Exploitation of Children (CSEC). DDG™ recognizes the tremendous amount of influence these industries have over culture, and aspires to harness their influ-ence in order to begin a global movement to reduce demand for CSEC through awareness, education, and giving. DDG™ is a 100% volunteer organization that donates 80% of their proceeds towards local restoration homes aiding CSEC survivors.
Along with 103 West of Buckhead Life Restaurant Group™, DDG™ is sponsored by All Star Enterprises, Auda-cious Apparel, Blue Med Spa, Canoe, Clear Channel, EL Design, Effective Media Company, Elie Tahari, Fashiona-do, Fifty-One 63 Makeup, Follow My Story Photography, Interprint, Jekyll Island Club Hotel, Jekyll Island Re-serve, Kristen White Imagery, Latitude 31, Luminocity Entertainment Division, LeFont Film Society, Little Pink Book, Mary Anne Morgan Photography, McCall Wilder Designs, My Moo Pig, Modern Luxury, Montana Sporting Club, National Distributing, Presence Models & Talent, Richie Arpino Salon, Sam Adams, Shaped Light Photog-raphy, Silk Wolf, Southern Seasons Magazine, Susan Muscari Komoto Lashes|Skincare|Makeup, Tongue & Groove, Turner Foundation Inc, Vita Coco Water, and Wendy Babchin Designer Group. Tickets are currently on sale and are $175.00 for Host Committee and $600.00 for Patron. General Admission tickets will be released on September 1 for $100.00. To purchase tickets or to become a sponsor, please visit http://www.ddgcharity.org.
For media inquiries and interview requests, please contact Carmen Luisa Coya at 404-408-2103 or clcoya (at) effectivemedia (dot) co.