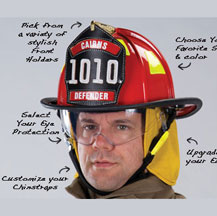 It's so great to be able to give a customer exactly what they want and make sure the purchasing experience is simple and easy...
Neptune, NJ (PRWEB) September 29, 2012
A reliable fire helmet is a very important component of a firefighter's personal protective equipment. Custom Fire Helmets provide protection from heat and impact and for many firefighters a helmet is also symbol of personal identity.
Fire helmets are typically designed to display a "front shield" over the forehead, which is a decorative and functional panel that lets onlookers know at a glance which Fire Department or "Company" that the firefighter belongs to. This Helmet Front is held in place by a "Helmet Front holder" otherwise known as a "Helmet Shield Holder". Helmet front holders come in a variety of styles which allow an added level of customization for the firefighter. Additionally, many different styles of fire helmets have a brim on which the firefighter can carry easily accessible equipment such as door chocks, a flashlight, and other small tools which are held in place by a rubber helmet band.
Fire helmets are available in many styles and the selection of customizable components is vast. Even so, Firefighters have previously only been able to purchase an off the shelf preconfigured fire helmet with pre-set specifications, adding customized elements later. With the new Design Your Own Fire Helmet Customizer from All Hands Fire Equipment, firefighters can finally choose all the components that make up their helmet at the time of purchase.
"Over the years, we have had many requests from firefighters to customize various parts of their fire helmet, so this is yet another way that we have been able to listen to our customers and focus on their needs", said Chief Donald Colarusso, President of All Hands Fire Equipment and Firefighter for over 25 years. "It's so great to be able to give a customer exactly what they want and make sure the purchasing experience is simple and easy".
With the Design Your Own Helmet Customizer, All Hands Fire Equipment has created a unique but efficient way for Firefighters to choose each piece of the fire helmet individually. For example, to protect the eyes against fire and other hazards there are many different forms of eye protection from flip down eye protection to full face shields or fire helmet goggles. Fire helmet liners also come in various protective types such as a Nomex liner, PBI earlaps Kevlar helmet liner. Even the chin strap is customizable. There are over one hundred variations on each style of Fire Helmet so there is practically no limit to what each firefighter can create.