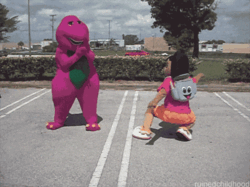 Surprising our users with an image that makes them smile is the least we can do for them during what is generally a pretty unhappy moment.
New York City, NY (PRWEB) September 28, 2012
As a part of it's mission to change the way people pay rent for the better, RentShare Inc. announced today on their blog that when users pay rent online through RentShare.com, instead of just receiving a receipt and payment confirmation, they will also be shown a comical animated GIF.
Unless you have been living under a rock for the past couple of years, you are probably aware that internet memes are quickly becoming a dominant part of popular culture. So much so, that even businesses are using them to increase internet chatter. Animated GIFs are one of the most popular types of memes because they can display a short moving image that will loop continuously, often drawing attention to tiny moments that are hilarious and or captivating. RentShare's team is using some of their favorite GIFs to psychologically reward people for doing something they likely are not too happy about doing: paying rent.
"For a lot of us, paying rent is pretty sucky, if not downright depressing," says RentShare Co-Founder Christopher Toppino. "It means forking over a lot of money, often the majority of ones last pay check, to some landlord, who statistically, you probably don't like that much. That said, surprising our users with an image that makes them smile is the least we can do for them during what is generally a pretty unhappy moment."
RentShare's staff has been experimenting with displaying memes on the site for several months now and their efforts have been met with positive feedback from users. One renter, going by @duprejohn on twitter, marveled: "To think I've been paying rent all these years without GIFs!"
This week marks the first time the company has publicly commented on their GIF strategy and committed to regularly displaying new GIFs each month moving forward.
When a user presses "Confirm & Pay" on RentShare's payment portal today, he or she will be met with the image of famed children's TV character, Barney, clapping, below the quippy one-liner: "You just paid rent! Way to be an adult." So far, this meme has been received well, as early payers have already begun to share it on twitter and facebook.
ABOUT RENTSHARE
RentShare.com is making paying rent online and shareing expenses with roommates simple. Once signed up, any renter in the United States is able to pay rent with a credit card or straight from their checking account using RentShare's payment portal.
RentShare is headquartered in New York, NY and can be contacted at contact(at)rentshare(dot)com.