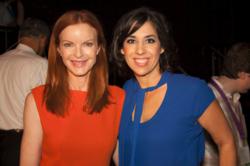 "We began with our initial theme, Women's Economy Starts Here, but wound up taking a moment and turning into a movement." Michelle J. Patterson
Long Beach, CA (PRWEB) September 28, 2012
Often referred to as the "California Governor & First-Lady's Conference for Women" for most of its 27 year history, this annual star-studded event has traditionally been hosted by California's First Ladies. With each successive administration, the size and scope of the event grew exponentially. When California's First Lady, Anne Gust Brown declined to pick up the torch held by every first Lady since Gloria Saatjian Deukmejian, a producer of successful 30,000 in-attendance events, Michelle J. Patterson (CEO of EventComplete, LLC), stepped in to ensure its rich legacy continued. Having first experienced the Conference herself at age 13th, the year it began, she felt the need was too great to allow it to fade into history. However, picking up where the former First Ladies had left off proved to be an uphill battle.
Along the way, influential women joined her efforts by lending their names and their presence at the conference, including: Marcia Cross, Gloria Allred, Fran Dresher, Carol Channing, Mallika Chopra, Tippi Hedren, Marianne Williamson, Geri Jewell, Donna Karan, Rose Marie and JoAnne Worley. Among the record breaking 150 speakers and panelist were Dr. Martin Luther King's goddaughter, Donzaleigh Abernathy.
"We began with our initial theme, Women's Economy Starts Here, but wound up taking a moment and turning into a movement," said Ms. Patterson, "I think those who attended, were inspired to go after their dreams and goals. I saw a variety of influential women, from powerhouses in corporate America to those who rock motherhood, communicating ideas and connecting on new and exciting levels. Programs and events designed to support women are being canceled, just when women need them most. I think this year's CWC returned to the roots of supplying what women need to become successful - an idea that began almost 30 years ago with Governor Deukmejian."
Many of the celebrated speakers and guests including Frances Fisher, Sharon Lawrence, Kate Linder, Erin Murphy, Lee Purcell and Ilene Graff, mentioned that despite the overwhelming statistics supporting the fact that women control both the purse strings and public opinion and have a growing presence within the business community, they still have poor numbers when compared to men with regard to political voices.
Ms. Patterson offered her view from the main stage, saying "I think that we, as women, don't fully realize the power we actually posses. The glass ceiling has been cracked, but by sharing our experiences we can completely blow it out. Our influence in the home and corporate America has become solid, so more influential positions in Congress and the White House can't be far behind."
Patrons polled at the conference with regard to their favorite panels and speakers, glowingly referenced many of the same experiences, including "The Legendary Ladies of Stage and Screen" (featuring Carol Channing, Tippi Hedren, Rose Marie and JoAnne Worley) as an epic and historic moment for them. Others remarked on the performances by Grammy winners Melissa Manchester and Helen Reddy (Of "I Am Woman" fame) or the nostalgic moment when the women of "The Waltons" cast (Judy Norton, Mary McDonough and Kami Cotler) took the stage to discuss lessons they learned from "the mountain" and beyond. Many talked about being moved by Stedman Graham's and Fran Drescher's speeches on the main stage.
When asked for her most memorable moment, Ms. Patterson replied, "I think the most gratification I personally received from the conference came from my own family. Watching my daughter participate as a panelist on the "Be Your Own You" (BYOU) stage, as well as the devotion and support my son gave me every step of the event and my husband's own dedication and patience during this entire project has meant the world to me. I'm just so proud of them."
Ms. Patterson's company, EventComplete, is already making plans and accepting requests, from other noted and famous personalities, to participate in next year's conference. It is hoped that the conference will continue to provide a forum for building successful businesses, strengthening careers, and positively influencing the world around them.