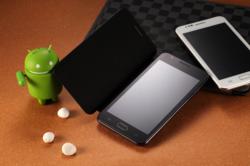 Offering free shipping for returns, no questions asked, no "RMA"
SAN FRANCISCO, Calif (PRWEB) September 29, 2012
By making this introduction, they have once again highlighted their leadership in this hotly contested niche. The company has shipped over 30,000 units of the WIKI Droid i90 since introduction. Offering free shipping for returns, no questions asked, no "RMA".
Director Marketing & Strategy Tonye Irims said "the mission to give end users simplicity in mobile and freedom to enjoy multiple wireless providers in one handset globally is being realized"
The company has always made consistent effort to improve mobile communications by observing the social as well as technological changes of recent times. They observed the need for dual SIM phones for a better mobile experience way back in 2007, and now, they have brought in Android Dual SIM phones. This new WIKI Droid phone runs on Android Ice Cream Sandwich with the new quad 1GHz processor, AMOLED screen and a 72hr dual standby battery.
The company offers five different types of WIKI Droid dual SIM phones to their valued customers. So, customers can pick anyone as per their choice. Dual SIM phones have now become a popular choice as it enables the user to use two different connections in the same handset. It is useful for the business entrepreneur, who has to attend several client calls throughout the day or travel across continents. Yet, it can be used by the others too.
Owing to the increasing demand of the dual SIM phones, several companies have now introduced these types of phones in the global market. Yet, Wikiglobal stands apart from the others in this niche as first movers. The company has not only strived to make their services better and introduce improved communication devices, but also, they have tried to keep their prices reasonable. Wikiglobal also offers free shipping to their customers and 24hr customer service to handle enquiries across time zones. Every merchandise shipped to their customers is quality controlled so customers can be assured of great quality every time.
About Wikiglobal
Wikiglobal is a Friendschip, Inc. company and is the leading provider of dual SIM phones and has consistently provided excellent products and services to its consumers over the years. It specializes in dual SIM phones that run on Android and the WIKI Droids are uniquely designed for that purpose. With partner programs, affiliates and brand agreements, Wikiglobal is aiming to expand its consumer base and provide its superior quality products world over. With a dedicated team of professionals that blend technology with creativity, WIKI is the new synonym for dual SIM.
# # #