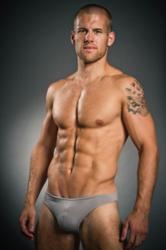 We are frequently asked about the difference between a string and a thong.
(PRWEB UK) 29 September 2012
Strings, thongs, micro briefs, mini briefs, midi briefs, maxi briefs, hipsters, shorts, boxers - snug and loose fitting… Underwear aficionados know there are as many variations in the shapes and names of styles for men as there are in women's lingerie.
One of the founding partners in Deadgoodundies.com in Jane Garner, a former fashion editor who has written about ladies lingerie for more than 25 years. She has written about DGU products since the website's launch in 2007 'and that's thousands of pairs of pants to describe' she says.
"Many of the terms appear to be the same for male and female underwear, but for men's undies they can mean something different," she says. "Big knickers for ladies parallel maxi briefs for men. What they call Boy Shorts for girls are much the same shape as boxy hipster styles for guys.
"We are frequently asked about the difference between a string and a thong. Our definition is that a string is fine and a thong is anything around a centimetre wide or wider."
Some men's underwear terminology springs from references in the trade, as Jane explains: "Once you get beyond a short short shape, there's that slightly longer, cycle length leg which is referred to as a 'long'. Then long johns are, curiously, known as long longs!"
Some collections and different countries adopt their own interpretations of style names. For example, across a lot of Europe a micro brief is known as a slip, but in America it would be a bikini brief.
Jane reveals the secret behind the naming system: "It's all down to the depth of the side seam on a pair of pants… micro, mini, midi, maxi, they all get a little deeper."
Her advice for anyone flummoxed by the naming system is this: "See how that style fits on the model in the picture and read product descriptions carefully. At Deadgoodundies.com we do our best to explain the cut and fit of every single design on the website."
Company Information
Deadgoodundies is an online only retailer stocking the best in designer men's underwear and swimwear from all over the world including, in alphabetical order, Big Boys, Body Art, Bruno Banani, Bum-Chums, Clever Moda, Doreanse, Ergowear, Gigo, Gregg Homme, HOM, James Tudor, Jockey, Joe Snyder, MaleBasics, MANstore, Mey Bodywear, Mundo Unico, Nils Bohner, Obviously For Men, Olaf Benz, Pikante, PUMA, Sloggi, Solar TanThru and Zoggs. DGU also stock selected loungewear, socks, T-shirts and more from their best selling brands.
DGU are incredibly media friendly and always have high res images on hand for fashion pages and samples for photoshoots as well as expert comment and market insight from partners Adam and Jane.
For more information contact Jane DGU PR on 01743 271615 (international +44 1743 271615) or email pr@deadgoodundies.com.