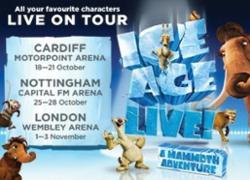 (PRWEB UK) 29 September 2012
Superbreak, the weekend breaks specialist, continues to expand its regional product range by offering customers more ways to enjoy some of the UK's top city break destinations. The York based tour operator has introduced a range of UK arena tours, exhibitions and touring west end productions to its growing events break portfolio, including Ice Age Live! – A Mammoth Adventure, Andrew Lloyd Webber's rock musical, Jesus Christ Superstar, and the Turner, Monet & Twombley Exhibition at the Tate Liverpool.
Over the course of 2012, Superbreak has worked extremely hard with key venues and ticket suppliers to ensure customers across the country have the chance to experience these exciting new events and productions outside of London's entertainment venues. The touring productions of Jesus Christ Superstar, Ice Age Live! – A Mammoth Adventure and Walking with Dinosaurs will cover some of the tour operator's popular regional destinations, including Glasgow, Manchester, Birmingham, Newcastle, Liverpool, Cardiff and Nottingham. Sales for these arena tours via Superbreak are already encouraging with Nottingham, Cardiff and Sheffield regional venues the most popular amongst Superbreak customers to date and Jesus Christ Superstar the most popular tour booked.
Early this year, the short break specialist, worked hard to expand its regional based concert breaks providing its customers with a host of headline acts such as the Wanted & Mc Fly in Blackpool, Olly Murs at the Lytham Proms Festival and John Barrowman. The most recent addition to Superbreak's events line up is the homecoming show of the Manchester born Jason Manford, who will perform at the city's M.E.N Arena in December 2013. This year has also seen the tour operator expand their regional based theatre breaks to cover key city break destinations outside of London, including Edinburgh, Dublin, Manchester, Cardiff and Bristol, with more locations expected to be added over the next few months.
As a result of their expanded regional product range, the mini-holiday provider's revenue from event breaks has seen an increase of 29.3%. The prominent growth of regional events and shows unsurprisingly occurred during the Olympic period as customers decided to venture away from the host city London. This success was highlighted by the popularity of the UK Dirty Dancing tour, which currently accounts for 24.9% of regional theatre revenue this year.
Khalid Amin, Online Marketing Manager at Superbreak, commented: "We have focused a huge amount throughout 2012 on creating innovative and entertaining packages for our customers right across the UK. Jesus Christ Superstar and Ice Age Live! are perfect examples of taking world class shows beyond London to some of Britain's biggest cities and arenas. Early sales figures are very promising for this regional extension of our well established O2 arena product."
About Superbreak:
Superbreak is the internet division of Superbreak Mini Holidays Limited, the market leader for short breaks and hotels throughout the UK and beyond, including hotels in Manchester and London to Paris and even Dubai. Superbreak is part of Holiday Break plc. Based in York, England, Superbreak specialises in booking city breaks in 2-5 star hotel accommodation throughout Britain for the leisure traveller. Superbreak also work with various travel providers offering a range of rail breaks, Christmas Breaks, P&O mini cruise breaks, flights & more.
With 5000 plus hotel partners in worldwide locations from Manchester to Brighton, from London to Paris and with great availability and rates for theatre breaks, events at the O2 Arena, various popular attractions and national and international rail partners, Superbreak can offer an outstanding depth and breadth of UK and Overseas short break products.