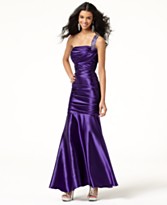 (PRWEB) September 28, 2012
A website focused on wholesale social dresses has been published by New York wholesale company, CloseoutExplosion.com. Closeout Explosion, a wholesale closeout business with a wholesale warehouse in Brooklyn, exports and wholesales brand name social dresses by designers such as Adrianna Papell, BCBG, Calvin Klein, Calvin Klein, Ralph Lauren, Bill Levkoff, and more. These dresses are premium label overstock and high end store returns from department stores and store buyouts.
"By focusing on department store overstock, high end store returns, and store buyouts, I am able to offer dress stores and boutiques wholesale social dresses at true closeout prices. I have had wholesale buyers from Nigeria, Trinidad, Kenya, Botswana, Ghana, South Africa, and Malaysia purchase dresses from my New York dress warehouse," said Donny Lowy, the CEO of Closeout Explosion.
The wholesale social dress site features informative articles on important topics such as:
Understanding What Makes A Dress Social
How The Right Social Dresses Will Make Your Customers Look Like Royalty
Sell Thousands Of Dresses By Becoming A Fashion Consultant
How To Find Customers That Can Spend A Great Deal Of Money On Dresses
Learn To Develop Lifetime Dress Buyers And Watch Your Bottom Line Soar
A Fun Fashion Style That Women Love, You Need These Dresses Now
3 Strategies You Can Use To Attract Shoppers To Your Dress Boutique
How Michelle Obama's Fashion Taste Can Help You Sell More Dresses
The wholesale fashion site also offers for sale below wholesale dresses, and includes example pictures of the type of dresses that Closeout Explosion sellers. Customers can order an assortment of dresses online, or can visit the Brooklyn clothing warehouse to make their own selection. In addition to dresses, the warehouse also offers brand name shoes for women, designer handbags, overstock brand name clothing for men, brand name children clothing, and other closeout items.
"As a wholesale business focused on the liquidation of brand name merchandise, I come across many different types of closeouts that can be suitable for Nigerian boutiques, Jamaican clothing shops, Canadian discount stores, and other retailers located both in the United States and abroad," added Donny.
Based on the experience in supplying closeout products to international buyers, Donny can make product selections that fit the criteria of his customers. For example, if a store in downtown Lagos caters to Nigerian investment bankers, a selection of conservative office dresses would be made, or for the particular market which the reseller is supplying.