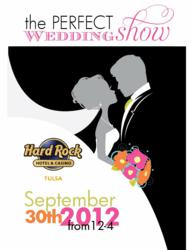 Tulsa, Oklahoma (PRWEB) September 28, 2012
Tulsa Perfect Wedding Guide is hosting their fall Bridal Show, Sunday, September 30, 2012. The show will take place at the Hard Rock Hotel and Casino, 777 West Cherokee Street, Catoosa, Oklahoma 74015. One highlight of this year's show includes the distribution of information on casting from a television production company, ShedMedia is searching for couples for a new TV show for the USA Network. ShedMedia is looking for dynamic couples who are currently engaged, but lack the funds to have a dream wedding.
According to a release from ShedMedia, the premise of the show involves a bride and groom who agree to avoid all communication with each other for two weeks before the ceremony. In exchange, the groom is given $20,000 to plan the entire wedding without the bride's input.
This year's show will also feature tons of prizes and planning tips for brides. The First 100 brides to receive a tote bag with a BRIDE shirt and all registered brides can participate in educational mini planning seminars taught by industry experts. Guests can treat themselves to complimentary Hors d'oeuvres, cake samples, chocolate fountains, and get in on the action with the famed Balloon Drop for a chance to win dozens of valuable prizes from participating bridal show vendors. Attendees also have the chance to win $25,000.
Register early online at http://www.perfectweddingshowtulsa.com for BOGO admission. Tickets are $10 each at the door.
About Perfect Wedding Guide
Perfect Wedding Guide has been dedicated to creating innovative wedding planning solutions for brides of all budgets. Our company offers couples a number of fun, useful, and free products to help make wedding planning less of a chore and more of a treat. Our local guides and bridal shows are available coast-to-coast in over 40 markets, showcasing some of country's top wedding vendors who work right in the bride's backyard. Our national website, PerfectWeddingGuide.com, is full of fresh planning tips and wedding ideas, wedding news, an extensive photo gallery for inspiration, easy-to-use wedding planning tools, as well as a wedding blog community hosted by our national wedding planning expert. For more information, visit the local Tulsa site, http://northeast-oklahoma.perfectweddingguide.com