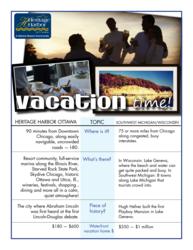 The drive to the northern getaways like southwest Michigan can be a nightmare since so many people crowd in there during weekends off. It's not like that at Heritage Harbor.
Ottawa, Illinois (PRWEB) September 29, 2012
Sometimes, everyone just has to get away. This is a feeling most Midwest city-dwellers are familiar with, year-round.
Too often, residents looking to escape from Chicago, Madison or other larger, metropolitan areas flock to the all-too common, well-known city vacation spots only to be barraged with crowds and high prices for lodging, food and other specialties. Areas such as Lake Geneva, Wis., and southwest Michigan are the same old spots hit-up by Chicagoans year-round looking for a place to get away from it all. What they find, however, is a locale brimming with tourists looking for the same escape — not the relaxing time they aimed for.
Tammy Barry, of Heritage Harbor Ottawa in Ottawa, Ill., says she hears it all time. After working and living in Chicago and other crowded areas, the last thing people want is to drive for an escape to a place filled with crowds.
"Homeowners and vacationers at Heritage Harbor Ottawa tell us the horror stories of other vacation spots all the time," Barry said. "For example, at most lakes vacation spots up north, it's harder to enjoy water sports because of the rough water and the boat traffic. Plus, the drive to the northern getaways like southwest Michigan can be a nightmare since so many people crowd in there during weekends off."
That's why so many city residents are turning to other great weekend vacation spots, such as Ottawa, Ill., and Heritage Harbor, she adds.
Ottawa, Ill., and the resort community and marina Heritage Harbor sit in Starved Rock Country, which is filled with outdoor adventure, fine dining, picturesque towns and landscapes — and it isn't overrun during the weekend, making it a tourist trap. The area is a place to get away quickly, and not be bothered by the stresses of a nightmare drive and crowds.
Places like Lake Geneva tout watersports and boating, but at Heritage Harbor, which has a full-service marina, tourists and homeowners can spend time on the Illinois River — less crowded, beautiful views and less-rough water, which is great for stand-up paddle boarding, fishing and countless other water activity. Plus, Starved Rock Country, which is home to nationally-known Starved Rock State Park, Buffalo Rock State Park and Matthiessen State are within a few minutes of boat or car drive and are a growing fall and autumn destination for both hiking and boating.
Starved Rock State Park was named Illinois' 2012 No. 1 attraction.
Southwest Michigan boasts its wine-tasting country, but in Starved Rock Country, there are several wineries that grow their own grapes where tourists don't have to fight long lines and crowds to take part in a free or affordable wine tasting of some of Illinois' best beverages.
There are several wineries in Utica, Ill., down the road from Heritage Harbor, including August Hill Winery. At August Hill, guests can enjoy individual creations conceived in the heart and expressed through the hand in its tasting room.
Tourists looking for an out-of-this-world thrill will also find a gem in Starved Rock Country at Skydive Chicago. Skydive Chicago is a world-class skydiving center built from the ground up to handle any skydiver's need, from newcomer to experienced jumper. And while the art scene is popular in Michigan Harbor Country, Ottawa and its surrounding communities are filled with specialty shops, art galleries, unique restaurants — such as the waterfront Tracy's Boat House at Heritage Harbor — and eateries. And Ottawa's botanical-themed, historical downtown is a piece of art in itself.
To learn about more hidden gems in Starved Rock Country and Heritage Harbor Ottawa, contact Tammy Barry at 815-433-5000. Heritage Harbor sees a lot of faces throughout the year from the northern Illinois suburbs and Midwest cities; no one knows how to vacation and visit Starved Rock Country better.