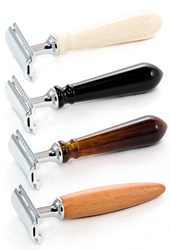 Toronto, Canada (PRWEB) September 29, 2012
A new range of affordable razors is poised to take the world of wet-shaving by storm. Selective men know that a double edged safety razor is an excellent tool for achieving a close, smooth shave. However, some gentlemen hesitate to purchase one of these fine implements for fear that it will be too expensive. Fortunately, this new line provides an excellent alternative that is not only affordable but also built to last for a lifetime of enjoyment.
With a variety of attractive finishes, these tools will appeal to every man regardless of his tastes. There are currently five different types of handles available. There is one style with faux ebony and another with faux horn. The handles also come in faux ivory, faux tortoise shell and genuine wood. They are very stylish with their shiny stainless steel heads, and their resin or wood handles fit comfortably in the hand making them the perfect combination of beauty and utility.
Sampler packs of blades make finding the perfect accompaniment to these instruments simpler than ever while luxurious, thick shaving cream complements the process of shaving with one of these devices.
Shaving with a safety razor is the preferred method of grooming for men who decide not to use a straight razor or the mass-market cartridges available at every pharmacy and grocery store. This new line combines the attributes of the best shaving devices with a price that is more affordable than the pharmacy alternative. Here's what makes it a great value. The instrument comes at a low price point and features a lifetime guarantee. That means men need only to purchase replacement blades, which come in packages of 100 or 200, after an initial investment in a handle. That's enough to last for a year or two. Running out of blades and running to the pharmacy for more becomes obsolete with this option. This product line makes it possible for every male to experience the joy of shaving the way it was intended.
Greater Toronto Area retailer Fendrihan is pleased to announce the addition of this range of affordable private-label products to their vast array of outstanding shaving and grooming merchandise; they are the exclusive retailer to offer this line.
About Fendrihan:
Fendrihan is a Canadian-based online vendor that supplies elegant gifts for men as well as fine shaving and grooming products from all over the world. With a range of products that is constantly growing and expanding, it is no surprise that Fendrihan has an international following. The Fendrihan compendium also includes fine writing instruments and standout European leather accessories offering the organization and clever convenience demanded and appreciated by their customers.