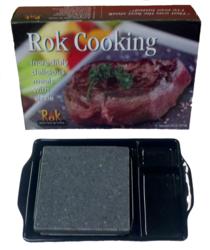 Cooking on a rock never tasted better....and now never looked better than with Rok Cooking's Home Cooking Set with black platter
San Jose, CA - September 28, 2012 (PRWEB) September 28, 2012
Rok Cooking is now offering its popular Home Cooking Set (model HCS-101C) in the elegance of a black porcelain platter. Cooking on a rock never tasted better....and now never looked better than with Rok Cooking's Home Cooking Set with black platter (white is also available).
The HCS-101C also now comes in an attractive new glossy package making it the perfect gift for the holidays or for that newlywed couple. A marriage is sure to avoid "going on the rocks" if a couple regularly cooks on the rocks!
No other product on the market gives consumers a restaurant-quality hot rock experience at home like Rok Cooking's Home Cooking Set. Cooking on a rock is entirely unique, healthy, entertaining and a whole lot of fun. The complete sear from the rock locks in the meats' juices, nutrients and natural flavors. Each bite is hot, juicy and incredibly delicious. Many say it's the best steak they've ever tasted.
Try it today and buy with confidence knowing that Rok Cooking recently earned the Cooking Club of America's seal of approval with a member approval rating of 9 out of 10.
The holidays are fast approaching and Rok's Home Cooking Set is the perfect and most unique gift for the foodie that loves to cook and already has every cooking gadget under the sun.
About Rok Modern Stone-Age Cooking
Rok is the leader in the design, manufacturing, and distribution of rock cooking products to restaurants and homes worldwide. For nine years, Rok has produced and offered a compelling cooking product to restaurants and individuals looking to think (and cook) outside the box. The Rok Commercial Cooking System includes the Premier 650 High-Temperature Oven designed exclusively for use with hot rocks and delivering energy-efficient, health conscious food preparation with the educated restaurant owner in mind. The Rok Home Cooking system offers the most engaging and affordable interactive hot rock cooking experience for today's discriminating home cook who is looking to prepare healthier and more entertaining meals. To sum it up, Rok is "Modern Stone-Age Cooking at its Finest!" For more information about Rok Cooking, please visit http://www.rokcooking.com.