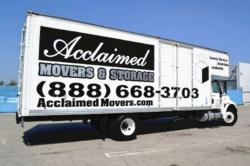 Los Angeles, CA (PRWEB) September 30, 2012
Los Angeles' premier, luxury moving and storage company, Acclaimed Movers and Storage, has added the transportation of high-end wardrobes and fashion garments to its always expanding services. Acclaimed understands that moving in Los Angeles requires unique skills, and they continue to aggressively work to acquire those skills. With their custom wardrobe boxes, and highly trained and gentle relocation experts, Acclaimed is quickly becoming L.A.'s go to garment movers. Years of experience in full-service moving, an "A" rating from the better business bureau, and now a comprehensive moving repertoire that includes high-end clothing, allow Acclaimed to lay claim to the title of, best in the business.
Acclaimed is a fully comprehensive, full-service moving company that handles residential, commercial, local, interstate, and international relocations. They have skilled moving consultants who help guide each client step-by-step through the moving process, ensuring a smooth transition. Their team of relocation specialists is extensively trained in how to properly protect, pack, and move any item. Boats, automobiles, artwork, pianos, expensive garments, you name and it and they will move it successfully. Additionally, Acclaimed has a fleet of top-of-the-line trucks equipped with GPS, as well as, industry protection standards setting packaging materials. Acclaimed also offers space in their enormous, climate-controlled, secure storage facility; which features 24 hour surveillance, and a temperature control system that prevents rust, mold, and wear.
Acclaimed Hollywood Movers and Storage continues to exponentially grow and develop, striving to make each move effortless and relaxing for the client. Their goal is simple, to define professionalism and reliability in the moving industry. With every relocation, Acclaimed further refines their craft and develops lasting relationships with the people they help. When looking to make a move, go online to http://www.Acclaimedmovers.com or give Acclaimed Hollywood Movers a call for a free no-obligation quote. We'll get you moving. (888) 668-3703.