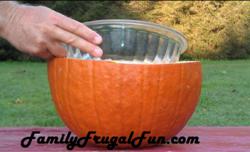 Halloween can be frugal and fun with our creative Halloween ideas & step by step instructions
(PRWEB) September 30, 2012
Every day until Halloween Family Frugal Fun will be blogging about scary Halloween recipes, tips, ideas, fun costumes & Halloween decorations to make. "Families are looking for creative Halloween ideas," says Maggie Miller, "Halloween can be frugal and fun with our creative Halloween ideas & step by step instructions." Beth Rose, co-blogger at Family Frugal Fun, says "I've always enjoyed finding creative Halloween decorations to make. There is just something about pumpkins & cooler air that I look forward to each year."
The frugal expert pair has come up with everything from Halloween punch recipes in a glowing pumpkin bowl to easy kid friendly ideas for community and school Halloween party ideas. Their blog boasts simple how to instructions with pictures. Ms. Miller & Ms. Rose have also included fall harvest party ideas for those not celebrating a traditional Halloween. "And don't forget our healthy Halloween options," says Ms. Miller holding one of her clementine pumpkins. "These are cute, festive, & great for day care Halloween parties too." "My favorite healthy Halloween alternative is the skeleton vegetable man," said Ms. Rose.
FamilyFrugalFun.com is a blog about frugal living tips, creative ideas for parents and having fun for families. It was established over 2 years ago and quickly became a hit as evidenced with the blog's high Facebook Fan count. Ms. Miller is a frugal living expert and co-author of Top 100 Mobile Text Coupons on Amazon's Kindle. Ms. Miller has been seen on Good Morning Delmarva, had frugal tips in All You Magazine and had her blog voted CBS Baltimore's Most Valuable Blogger People's Choice Award in 2011. You can also find Ms. Miller's creative Halloween ideas on Pinterest.