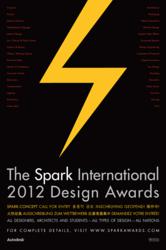 (PRWEB) September 30, 2012
Tension is rising in the design professions as the final deadlines for the five Spark Design competitions nears. With hundreds of entries already submitted, and hundreds more streaming into the Spark website, two questions are paramount. Can the entrants manage all the details and "paperwork" of their online submission in time, and will the Spark registration system hold up under the stress?
ASKED AND ANSWERED
Spark Ombudsman, Clark Kellogg, had all the answers. "Entrants, be they designers, assistants or consultants, need to keep Spark's schedule in mind and plan ahead. Our final deadline is firm, because so much activity, like juries, immediately follows. The system stops accepting entries precisely at 11:59pm, Pacific Daylight Time Zone." Kellogg continued, "If your entry materials (3 images and short and long descriptions) are prepared, the actual time to submit online can be as fast as 5 minutes per entry."
"As to the Spark systems, they are quite robust, engineered earlier this year by Pluo Consulting to take advantage of the newest technologies. It's well-tested, well managed and has redundant safeguards. We're ready! But don't wait to enter--stuff happens."
DIFFERENT COMPETITIONS GET DIFFERENT ENTRIES
The entries to the competitions first are uploaded to the Spark website—photos and/or video of the design and descriptions of the work and its mission. If chosen as a Finalist, the work takes more physical form for the live juries. In the Spark:Communication Design competition, designers ship the finished piece to Spark, such as a poster, set of stationery, package design or adverts. For Spark:Product, again, a physical example of the design is shipped to the jury site. This could be a mobile phone, a piece of equipment or consumer product. For Spark:Spaces, entries typically are structures, parks, large-scale and thus impractical to ship, so they send display boards, powerpoints, videos and models. Concept design stays virtual and online. It has so many international students submitting work that physical submissions are an undue burden for young budgets.
HOW DOES JUDGING WORK?
"We've learned to encourage dialog," said Kellogg. "The judges first briefly review the work, then sit together and assign 'guides' for each major sub-category, such as medical devices or website interfaces. Then it's back out to the designs and a discussion of every piece. Jurors can get pretty excited and passionate about their favorites during this process. Late in the day, everyone fans out to vote the work, scanning a QR code affixed to each design. This works via a unique Spark voting app on their phone. Then they select a point on a scale from 0 to 5 in the app, reflecting what they think of the design. This is sent in real-time to our secure system. When finished, the scores are displayed to the judges for a final discussion. Votes can still be changed, and it is all confidential. When agreement is finally reached, we toast the results and winners with a good California bubbly and call it a day. But what a day!"
DEADLINES AND SUCH
This PR comes out about a week prior to the 2012 Final Deadline for the competitions. Designers can still enter Spark right up to 11:59pm, Pacific Daylight Time, on October 8th. Of course, the Spark organizers urge designers to enter as early as possible-- but knows they'll wait until the 8th! Entrant landing page: HERE.
WINNERS IN NEXT SPARKBOOK
The winners of these Awards will become the stars of the next Spark Design Awards Annual, to be published next year. The 2011 edition was recently published and is available at Amazon.
INFO
More information about this organization and these competitions can be found at the Spark website landing page at http://www.sparkawards.com
Spark is proudly sponsored by Autodesk, Core77, ArchNewsNow, Archinect, Bustler, Pluo Consulting and RIOT Creative Imaging.