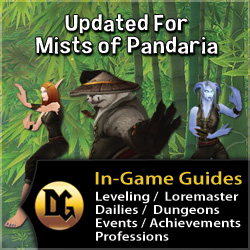 (PRWEB) September 30, 2012
Thinking about leveling up a Pandaren but are holding back because of the long trip from levels 1-90? An update to the renowned Dugi's Ultimate WoW Guide promises to change that by providing players with the fastest route from levels 1-90, including the new Mists of Pandaria areas.
Dugi's Ultimate WoW Guide is a software program that players install on their computer. Upon installation, it automatically appears in the player's add-ons section once you log into World of Warcraft. It then provides you with a custom in-game leveling interface that shows players exactly where to go in-game to level up quickly and easily.
The questing interface works by placing a GPS-like system on the player's screen, telling them which NPCs to talk to, when to pick up new quests, when to complete quests, and where to go and what to do for each quest they pick up.
The results from Dugi's Ultimate WoW Guide are quite impressive. Players have been able to move from level 1 to 85 in under 4 days of playtime when using the guide, and with the new release of the level 90 guide, players will be able to reach level 90 in not much longer.
With the new Dugi's Guide update, players can also explore the new Pandaria low-level areas as they level up their character before rejoining the major questing areas of Azeroth. This gives would-be Pandaren not only the fastest leveling path to 90, but also provides them with the opportunity to experience all the new content.
If you are thinking about leveling up a Pandaren, Dugi's Ultimate WoW Guide will certainly make it a lot easier.