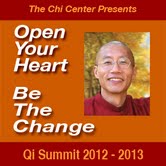 Petaluma, California (PRWEB) September 29, 2012
Master Mingtong Gu of The Chi Center is launching a free In-Conversation online series titled "Open Your Heart—Be the Change." This series provides the wisdom of why to open the heart for self and the world from the perspective of top teachers and leaders. This series also provides the Practice Tools of how to begin doing it. Every session includes Master Gu teaching Qigong who will be In Conversation with leading teachers presenting a complementary practice focused on the open heart. In the traditional Chinese practice of medical Qigong, cultivating an open heart is the first step to generating a more healthy and balanced body, mind and spirit. Through this series, viewers can find a heart practice and shape a dedicated practice to open the heart.
The free series launches online Oct 2, 4:00pm-5:00pm PT with "Two Qigong Masters: How Qigong Integrates and Awakens the Wisdom of the Heart." Master Gu webcasts live from Colorado for the In Conversation with Qigong Master Ken Cohen. Drawing on eastern and western perspectives, they will explore together Qigong teachings and practices for the heart. Master Cohen is a teacher of Qigong, author of numerous books and founder of the Colorado based Qigong Research & Practice Center. Master Gu was raised and trained in China in Wisdom Healing Qigong, and founded the Chi Center in Sonoma County, California to bring medical Qigong to a Western audience. He leads online Qigong courses, retreats and workshops and is the author of books on sound healing and Wisdom Healing Qigong. Watch this event live or the online recording for viewing.
Sign up early and get free access to the entire online series and get the full heart benefits. Master Gu has invited highly respected leaders, teachers and visionaries in the fields of science, wellness, and spirituality to join him in thought-provoking and educational conversations on the heart. Viewers can sign up at http://www.chicenter .com. Other speakers include James Baraz, Jean Houston, Janet Attwood, James O'Dea. The conversation series is a part of The Chi Center's Qi Summit, which will include a global online event on December 21st, and a Bay Area event in March 2013.