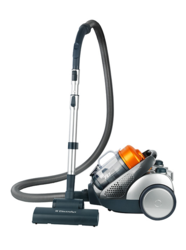 These new Electrolux models will rival Dyson's bagless upright and canister vacuums.
Quincy, MA (PRWEB) September 29, 2012
eVacuumStore.com announced three new additions to their selection of Electrolux vacuum cleaners including the new T8 Access bagless canister vacuum, the Precision Brushroll Clean upright vacuum, and the UltraActive bagless canister vacuum. Each of these bagless vacuum cleaners offers the latest in cleaning technology with powerful suction to clean the home with quality and comfort.
The T8 Access is an inexpensive, bagless canister that is both dynamic and powerful. Offering an automatic cord rewind, easy to empty dirt receptacle and a full arsenal of cleaning attachments, the T8 Access is designed to take on any cleaning job. Whether you're cleaning carpets, hard floors, stairs, or even upholstery, this vacuum cleaner is designed to get the job done. Though it is equipped with an air driven turbo brush, a stair tool, dusting brush and upholstery tool, low profile nozzle, hard floor brush and crevice tool are also included. Versatility is key with the Electrolux EL4071 T8 Access canister vacuum.
Much like the T8 Access, the EL8807A Precision Brushroll Clean is a multifaceted and powerful upright vacuum. What sets this machine apart from the rest is exclusive Brushroll Clean technology. With the click of a button, users can remove unwanted hair and debris that is tangled in the beater bar of the machine. Anyone who's spent hours untangling hair from the brush of their vacuum can confirm that this is an extremely convenient feature. The EL8807A Precision Brushroll Clean upright vacuum provides powerful cyclonic suction and is a convenient cleaning option for any household.
In addition to the two brand new models, Electrolux unveiled an updated version of the UltraActive canister vacuum. The EL4300B replaces the EL4300A and features a new color change. The UltraActive which was previously manufactured in an orange color will now be sold in sleek purple hue with a newly updated design.
All of these new models will rival Dyson's bagless upright and canister vacuums. While the T8 Access, Precision and UltraActive offer similar designs to the Dyson vacuum, they are offered at a much more reasonable price and made affordable to the everyday consumer.
About eVacuumStore.com:
eVacuumStore.com is the premier online dealer of Electrolux vacuums, parts and accessories. With over 15 years of knowledge and experience, our expert staff is prepared to answer any questions and assist with any do-it-yourself repairs. For more information visit http://evacuumstore.com