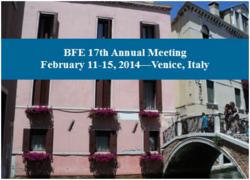 Contribute to the growth of biofeedback/ neurofeedback by submitting your proposal for oral presentation, posters and workshops.
(PRWEB) September 30, 2012
The BFE Annual Conference offers in-depth scientific presentations (lectures, symposia, paper sessions, and posters) during the scientific program and ongoing education and training in one and two day hands-on clinical and educational workshops. The workshops are instructed by internationally recognized clinicians who will demonstrate their latest clinical/educational biofeedback treatment approaches.
The BFE goal is to nurture and encourage health through Learning from the Best. The focus is offering health professionals education and training through our annual conference and online workshops and supervision. Participants are provided an opportunity for learning and mentoring in accordance with guidelines from the Biofeedback Certification International Alliance (BCIA)."
Call for Submissions
Contribute to the growth of biofeedback/ neurofeedback by submitting your proposal for oral presentation, posters and workshops. The deadline for submissions for symposia and paper sessions is August 15, 2013, and for posters and oral presentations is August 30, 2013. To download the submission form, please visit the BFE Website.
Past Conference in Rzeszów, Poland, September 10-15, 2012
The BFE would like to thank everyone who helped make its 2012 conference Rzeszów, Poland a success with a special thank you going out to Dr. Rafal Sztembis of Biofeedback Polska for organizing the meeting. In addition to attendees from all over Poland, participants came from Europe, North and South America, South Africa and Australia.
Highlights of the scientific meeting were:
The superb invited presentation by Marek Jantos, Ph.D. on the successful treatment of female pelvic floor pain--A hidden and disabling disorder that affects up to 30% of women and can be successfully treated with a 90% success rate using an integrated biofeedback protocol.
The investigation and demonstration of voluntary pain control by Erik Peper, Ph.D. and Howard Hall, Ph.D. of Kasnazani Sufis, during which Kasnazani Sufis inserted unsterilized skewers through the floor of the mouth and left chest area while somatic and EEG measures were monitored. They reported no pain and the tissue healed in 18 hours and no swelling or inflammation was visible.
The meeting included workshops taught by :

Drs. Lynda and Michael Thompson who presented three workshops on neurofeedback which provided an introduction to the practice of biofeedback, assessment and intervention strategies, heart brain connection and neuroanatomical underpinnings for optimal performance.
Dr. Erik Peper who presented on stress management with biofeedback. Breathing, biofeedback and related mind-body interventions to reduce chronic pain and anxiety were discussed.
Dr. Donald Moss who presented on heart rate variability biofeedback.
Dr. Marek Jantos who presented on new perspectives and treatment of female sexual pain.
Dr. Howard Hall who presented on how therapeutic language enhances pain Management and biofeedback.
Dr. Francois Dupont who presented on EEG Assessment and training.
About the BFE-LFB (Learn From the Best) Program
The BFE-LFB program provides continuing education via conferences, seminars, workshops, internet courses, and software for professionals around the world. Content is developed independently by International Research & Education Project teams. Financial support comes from the Biofeedback Federation CIC, a non-profit Community Interest Corporation located in the UK. For more information, visit the BFE Online Shop.
Contact:
Carol Meyers
BFE Education Manager
education(at)bfe(dot)org
Conference Registration
Carina Ruf
conferences(at)bfe(dot)org