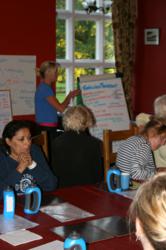 FitFarms fitness and weight loss retreat programme
(PRWEB UK) 30 September 2012
There will be a maximum of 25 guest on the weeks which will be running from the beautiful peak district FitFarms in the county of Derbyshire.
The fitness team will consist of personal trainers from all round the UK. There will also be pilates and yoga specialist on site to help you towards your fitness goals.
The nutrition programme has been designed by a senior nutritional therapist and will be made extremely tasty by French chef Anthea de la Roche from Brittany.
The fitness camp team will be making sure the exercises are challenging but also manageable.
Typically since FitFarms opened back in 2006 guest have come in all shapes and sizes looking to lose weight and increase there fitness levels.
The FitFarms weight loss and fitness camp programme is not just about weight loss and fitness it is a whole lifestyle change.
The health team look at the reasons behind why people make unhealthy decisions and correct it through Life Coaching sessions.
There is often an underlying reason why people make the choices and even during a short weekend process FitFarms will set out to make the difference.
The Fitness camp weekends will be a great mixture of indoor and outdoor exercises which will be intense but also manageable and inspirational.
Many of the FitFarms weight loss retreat guest go on to take up sports like badminton and hockey after the FitFarms weeks.
This is due to having tried them during the fitness retreat week liking it and then wanting to make it a hobby.
The weekends are going to be very popular and some places have already been reserved before the company has advertised.
To avoid disappointment book as early as possible by phone or online via the company website.