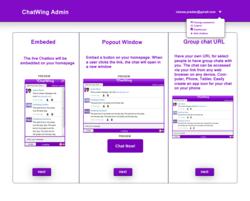 San Antonio, TX (PRWEB) September 29, 2012
Blogging has helped many people get the information they need everyday. This is due to the fact that blogs generally cover different points of information that are really useful for everyone. Students, on the other hand, will get the true knowledge they need with the help of successful blogs and websites. To further help students gather information, the Chatwing Development Team has launched a website chat box that can initiate real-time chatting. The Chatwing app has been proven effective in other niches and purposes, as well.
Chatwing's free chat box is all about simple information relay. With the help of the Chatwing app, users can communicate effectively and add more friends and acquaintances. The Chatwing application comes with a default purple theme, but users can go for more colors in the customization process. Once registered, a user may add unlimited chat boxes and moderators. This feature is useful for people who are maintaining two or more blogs. Student groups and organizations can highly benefit from Chatwing's blogging chatbox. Now, information can travel at super-speed, and students can even engage in lively and trendy discussions.
Installing the Chatwing free shout box shouldn't be a hassle for students whose schedules are busy. To install the Chatwing app, the student must first register his blog's domain name. Next, he should input his email address. Once this step has been covered, Chatwing prompts the student to select a form factor or chatbox style. Currently, the student can select from three form factors: actual live chat box, pop-up window, or vanity URL style. All of these form factors have their strengths and centralized uses. After all steps, the student can now retrieve the HTML code and embed it to his blog. All of these strings of processes can be accomplished in under a minute.
The advent of blogging applications has helped the Chatwing application to be recognized online. Chatwing's developers also believe that studying will become more enjoyable and easy with some form of interaction. In this sense, the Chatwing blog application serves as a professional solution. To cope with changing trends, the Chatwing team is pushing for more platform developments in the coming months.
About Chatwing.com
Chatwing.com specializes in the new field of website chat. Over years, the Chatwing team has introduced live chat box for hundreds and thousands of blogs. The Chatwing application bridges people from many parts of the world, creating global synergy through the Internet. The shout box can be installed in just seconds, and it can be used for varying purposes such as leisure and Internet marketing. It also allows a user to customize the size, color, and name of the widget. Chatwing is 100% free for everyone.