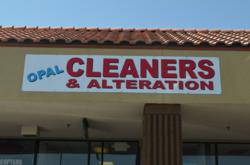 Las Vegas, Nevada (PRWEB) September 30, 2012
Golf fever is back and Las Vegas Golf Entertainer, Raj Jackson will be appearing at Opal Cleaners on Monday October 1, 2012 from 9-10am. Opal's is located at the corner of Tropicana and Jones near the Smith's grocery store. Raj Jackson's ASK THE PRO event will be a casual and relaxed from 9-10am. There is no charge for this event and everyone is invited. Here's you chance to ask Raj Jackson questions about the golf swing or just how to play better golf.
Opal Cleaners has been opened for 2 years. They have built a great community reputation for great dry cleaning, quick alterations and a personal touch. They have many celebrity clients in the Las Vegas area, one of their favorite customers is Raj Jackson. Raj gets all his clothes cleaned and pressed there and states " its a family owned business and they go the extra mile to make everything perfect". Raj will be giving free golf tips and answer all golf questions in the meet and greet session called ASK THE PRO. Now, you have a chance to meet Raj Jackson in person, take a picture, ask a golf question or just come down and get an autograph.