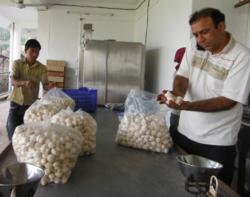 I thought we were led here by serendipity, but we were guided, directed, and protected -- one door closing, another opening, until we met Vikas Benal of Vikas Mushrooms.
PERKINS, OK (PRWEB) September 30, 2012
In 2007 Sandra and Doug Williams of Lost Creek Mushroom Farm in Oklahoma went to Ghana, West Africa, as volunteer mushroom consultants, helping mushroom growers improve production. They traveled half way around the world to find their hearts' passion: Working with mushroom farmers, learning, teaching, and finding ways to promote economic independence through mushroom production. And, by teaching about mushrooms, promote human, plant and animal health and well-being. They started Mushrooms in Ghana Project to fulfill that passion.
They have just returned to the US after pursuing their hearts' desire in India.
"People come to India for spiritual enlightenment – it was common in our hippie days – and here we are in our 60s, discovering that our work has become our spiritual path," said Sandra.
The Williams' intention was to visit the Directorate of Mushroom Research in Solan, Himachal Pradesh, in northern India. Solan is "The Mushroom City of India," in part because of the Directorate, and also because Vikas Benal has built a mushroom production facility and trained a group of farmers there. They grow more than 7,000 kg of mushrooms a week and Vikas provides employment for over 200 people.
The US mushroom growers found their way blocked by the need for permission to visit the government research facility. After waiting in New Delhi to hear from the Directorate, they were told they had to apply for permission from the India Department of Agricultural Research. There they learned the initial application was to have come from the US Embassy. All efforts would be made to circumvent the official protocol and obtain the permit, but it could take a day or two. Then, after arriving in Solan, they learned it would not happen because of the required protocol.
"I'd found Vikas Mushrooms on the internet, and asked permission to visit. He welcomed us. I thought we would be there half a day to see 'ordinary' white button and oyster mushroom production. Then we would wait for permission to visit the DMR," Sandra explained.
"We stayed three days. It was a dance of giving and receiving. Vikas had tried growing shiitakes on composted sawdust, the usual commercial method, which is complex, expensive and can be risky. His first crop failed. Growing shiitakes on hardwood logs is simple, natural, less risky and much less expensive. We had just learned a new technology from Israel for commercial shiitake production at the International Society for Mushroom Science Conference in Beijing, China.
Vikas had been looking for just the information we had to offer. We learned ideas for our farm and ideas we can take to farmers in Ghana, the US and wherever we travel."
"Shiitake mushroom cultivation is in the initial stages here in India," Vikas said, "I am lucky to have both of you at my mushroom farm at Solan as Doug has 30 years' experience in growing shiitake. Your nature of sharing information & experience is very rare these days. I was trying to grow Shiitake, now I am sure with your cooperation I will be a successful Shiitake mushroom grower in India."
Vikas Benal, with a degree in commerce, was looking for a business of his own. As had happened with Doug in the US, when Vikas found out about growing mushrooms, he "knew" it was right for him. He took training at the mushroom research center and as he likes to say, "I went from unemployed to employer of 200."
Over the last 22 years, he has concentrated on building low-cost growing facilities using natural materials and natural ventilation. Clean water is plentiful from mountain springs and the mushrooms are grown on composted agricultural waste: straw, burnt rice hulls, ground coconut shells, and well-composted cow manure.
Sandra noted, "Because of his exceptional management practices, there is no contamination at Vikas Mushrooms or for its farmers, which is almost unheard of in commercial mushroom production."
Vikas trains mushroom growers, supplies them with seeded bags of compost to grow the mushrooms, then buys the mushroom from them. "It's a very successful cooperative," Sandra reported. "The small-scale farmers could not possibly afford to make their own spawn. It requires a sterile lab, high-tech equipment, sterile storage rooms, refrigeration, and more. Vikas is a genius, and a very generous man. He has given encouragement, training, technical and financial support to the farmers, who have become successful entrepreneurs because of him."
On November 18th, 2012, India will recognize Vikas Benal for his outstanding accomplishments, as he receives the Indira Gandhi Sabdhavana Award for Excellence.