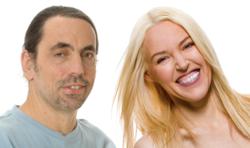 This is an epic event for Minnesota. I couldn't be more thrilled to partner with Ana and Ravi to bring this fantastic opportunity to take yoga and fitness to a new level in our community! - Tarisa Parrish, YogaSoul Owner
Eagan, Minnesota (PRWEB) April 05, 2012
The YogaSoul Center is excited to bring celebrity yoga teachers Ana Brett and Ravi Singh to Minnesota for the very first time! Until now, Minnesota students have only been able to experience their dynamic teaching style through popular DVDs. According to YogaSoul Owner, Tarisa Parrish, "This is an epic event for Minnesota. I couldn't be more thrilled to partner with Ana and Ravi to bring this fantastic opportunity to take yoga and fitness to a new level in our community!"
The core strengthening, dramatic and dynamic style of Yoga called Kundalini is sweeping the nation, and celeb trainers, Ana Brett & Ravi Singh are leading the way! Ana and Ravi's signature style of Kundalini Yoga is an athletic type of yoga which covers the most important fitness fundamentals. It combines breath and movement for a body sculpting, aerobic, and spiritually uplifting experience! Its secret surprise is the way in which it motivates the body to burn calories through its work on the endocrine system and fills your life with strength, success, and Spirit!
Ana Brett and Ravi Singh have authored 22 DVDs and a soon-to-be published book, The Kundalini Yoga Book. They have trained more than 300 practicing kundalini yoga teachers. Their clients have included Olympic athletes and people from all walks of life. They travel extensively teaching workshops, conferences and retreats worldwide. Their approach is powerful, inspiring, moving, and fun. Recently, the Biggest Loser's Jillian Michaels cited them as her favorite yoga teachers.
Ana and Ravi, who have more than 40 years teaching experience combined, will be leading four weekend workshops in the powerful yoga style of Kundalini Yoga. The Friday night session is called Yoga Cleanse: Lighten Up & Purify. Liver health determines to a large extent how people feel, look, and think. Due to environmental pollutants, oxidative stress, and unresolved negative emotions, most people's livers are overtaxed, even in spite of a healthy lifestyle. The Yoga Cleanse workshop will feature a graceful yet powerful Kundalini Yoga set to purify and regenerate. This session will also feature a blissful meditation to arrive at a high level of purity, mentally, emotionally, and spiritually. Cost for the workshop is $35.
Saturday provides two opportunities for students to experience Ana and Ravi's potent teaching style. The morning session called Spiral Fire is designed to create healing, inspiration, self-growth, and Spiritual awakening. The afternoon session called Move Your Energy, Move Your Life will help people regenerate, celebrate, and blossom as they experience a comprehensive physical and metaphysical workout. Students will learn to expand their range of movement physically, mentally, and more.
On Sunday, students will take a New Journey through the Chakras. In this inspiring workshop participants will climb the ladder of lights from the mundane to the miraculous! They will learn where their blocks are and how to transform them. Kundalini Yoga exercises and Meditations for each chakra will allow new energy to flow freely in the lives of the students providing a tangible experience of Spirit.
These sessions are not only a great initial foray into Kundalini Yoga for newbies, but also long-time practitioners will gain new insights and methods. Share in a powerful group energy and fill your life with strength, success, and Spirit! All workshops are 70% physical - 30% Meditative. ALL LEVELS WELCOME!
Cost for these powerful workshops on Saturday and Sunday are $50 each or save by registering for all three and pay only $145.
YogaSoul's mission is to help clients win the battle against stress. It has an extensive class offering in several styles of yoga, including Kundalini, Hatha, Yin, and Vinyasa. It boasts a fully equipped Pilates studio and offers many kinds of classes, including Zumba, Tai Chi and belly dancing. Its full roster of teachers and healers provide clients with a variety of healing services, including intuitive readings, Reiki, Thai yoga bodywork, Ayurveda, energy work and several others. YogaSoul also hosts special workshops and teacher trainings.
To see a full schedule, make an appointment with a healer, sign up for a class, or register for teacher training visit YogaSoul's website, http://yogasoul-center.com/ New students get their first week of classes free.