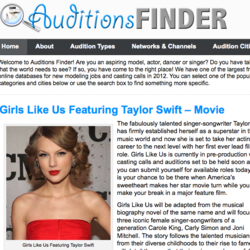 All these have been submitted to their site by reputable sources. You will be sent to credible links for productions that need new faces.
United States (PRWEB) November 02, 2012
AuditionsFinder.com launches new categories and locations. It is quickly becoming an excellent and unique resource for aspiring models, actors, dancers, singers and performers. They supply one of the largest online databases for casting calls and modeling jobs in the industry. And access to it is free! There is no need to open an account or give out personal information. Going to http://www.auditionsfinder.com is an easy way to access everything from audition types and locations to who's looking for what. They also supply the latest news on everything happening in the entertainment industry.
They are staffed by models and actors that want to encourage the passion they have to succeed in one of the toughest industries in the world. Audition types run the gamut. If you aspire to work in the entertainment industry, the database can direct you to big budget films; a breakdown of auditions for television show categories like family; talent and theater shows; as well as a series of options for reality programming. They even have a category for voice over and work as an extra.
They also have a category for auditions based on location. New York and Los Angeles aren't the only place to be. They maintain a list of auditions that cover the country. All these have been submitted to their site by reputable sources. All sources are credible for productions that need new faces.
There is also a comprehensive Networks & Channels listing. Find all the latest audition and casting call information for hits shows like NBC's Up All Night and Revolution, FX's Louie and many of Tyler Perry's productions. Throughout the site, there are tips on how to approach an audition and how to find the audition that will work best for you.
If someone has real passion to succeed in the entertainment industry, AF is a great resource. With one of the largest free databases online for new modeling jobs and casting calls throughout the country, there's no better chance of connecting with the right casting director or agency. Select a popular category or browse through the cities in your area. Reality, film, television, stage, you'll find all this and more on the pages of Audition Finders.