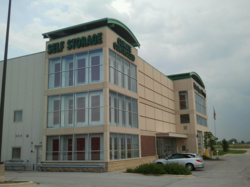 Country Club Hills, IL (PRWEB) September 03, 2012
LifeStorage, Chicago self storage provider for home and business and office solutions, is excited to announce it's closing on its 20th location. Located in Country Club Hills at 16869 Kilbourne Avenue, the 2.18 acre site, formerly owned by Extra Space Storage, is located within the Country Club Plaza, a 450,000 square feet retail center, sharing space with the nation's largest retailer, a movie theater, and other big-name retail outlets.
"It seems like we're really rolling now, with this being the second facility purchased within the past month. Again, this facility was already a storage facility, so the amount of work we need to put into it is minimal compared to say, a new build a complete overhaul. Many of the amenities LifeStorage customers expect are already present in the building, which is a big win for us," said Life Storage Director of Operations, Michelle Wight.
The three-story steel frame building, located at 167th and Pulaski avenue which offers efficient entering and exciting of the shopping complex, was constructed in 2007. The entire facility is climate controlled, offering 631 units, roughly 20% of which are still available for rent. The facility also offers drive-up units, drive-in loading bay for inclement weather, both standard and climate-controlled units, and the latest security features, including 24-hour digital surveillance, digital keypad access, and automatic gate access.
"We're really excited with the property and its location. The shopping center alone attracts large amounts of traffic with stores like Walmart, GameStop, and Radio Shack, a Lowe's Theater, and eateries like McDonald's and Applebee's. To see LifeStorage's name amongst such well-known brands is going to be great. We're really working hard to make sure the properties we purchase make sense for us and for our prospective customers...can we provide the LifeStorage products and experience that we're known for at each location."
"With this facility, I think we've hit a home run," Wight said.