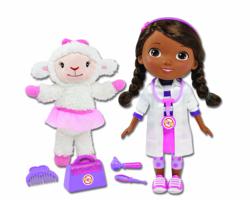 Deerfield Beach, FL (PRWEB) November 08, 2012
The leading toy trend experts have made their predictions for what will be the hottest holiday toys this year, and they all agree that the Doc McStuffins "Time For Your Check-Up" Doll from Just Play and Disney Consumer Products will be one of them. Based on the top-rated Disney Junior animated series about a girl who heals toys out of her backyard clinic, the Doc McStuffins doll comes to life as she talks, sings and uses her magic stethoscope and special tools to give her best friend Lambie a check-up. The doll landed on three of the most coveted holiday toy lists: TimeToPlay.com's Most Wanted, The Toy Insider's HOT 20 Holiday Toys, and the Toys"R"Us® "Fabulous 15."
"People of all ages have fallen in love with Doc McStuffins, and we have enjoyed working with Disney Consumer Products to create a doll that embodies this endearing and empowering character," said Charlie Emby, co-Founder of Just Play. "We are incredibly honored that the doll was recognized by the experts at TimeToPlayMag.com, The Toy Insider and Toys"R"Us," said Geoffrey Greenberg, co-Founder of Just Play.
The Doc McStuffins toy line from Just Play includes several other products that let kids enjoy the show's magic at home: Basic and Talking Plush (SRP $9.99-$19.99); Small Dolls (SRP $9.99); the Big Book of Boo Boos (SRP $5.99), which comes with wipe-off pages, dry erase crayons and stickers to record all of the Doc's diagnoses; the On Call Cell Phone (SRP $7.99) with light-up features and realistic phone sounds; the Magic Talkin' Checkup Set ($19.99), which interacts with figures of Lambie, Stuffy and Chilly when they're placed on the check-up table; and the Doctor's Bag Set (SRP $19.99) of eight glittery doctor's tools for performing check-ups.
In addition to the Doc McStuffins toys, Just Play and Disney Consumer Products are introducing new toys for this fall inspired by other beloved Disney characters, Tigger and Minnie Mouse. Bounce Bounce Tigger and Minnie's Flipping Fun Kitchen were both also honored with spots on the Toys"R"Us 2012 Holiday Hot Toy List.
Bounce Bounce Tigger is "gonna make you bounce, bounce." This dancing, shimmying, rocking version of the lovable character from Disney's Winnie the Pooh plays his signature theme song to the tune of a classic hip hop hit song while showing off his best dance moves in sync with the music. Kids can dance and giggle along with Tigger as he bounces, rocks back and forth, and "wiggety, wiggety wiggles!" (For Ages 3+; SRP $39.99)
Minnie Mouse fans will "flip" over Minnie's Flipping Fun Kitchen, which is filled with tons of features such as a cutting board that flips to reveal a hidden sink, a dish rack that flips to reveal a secret milkshake maker, a flipping recipe wheel filled with all of Minnie's recipes, and even a special frying pan that "flips" a Mickey-shaped pancake! This kitchen also makes realistic cooking sounds and includes a play refrigerator, pretend ice maker, play stove, real working Lazy Susan, clicking knobs, a clock with moveable hands and over ten adorable Minnie inspired kitchen accessories and utensils that will delight any little chef! (For Ages 3+; SRP $79.99)
About Just Play
Just Play is a manufacturer and distributor of a broad range of children's consumer goods including toys, plush, role play, and health and beauty products. To learn more about Just Play's products, please visit http://www.JustPlayProducts.com, or follow the company on Twitter (@JustPlayToys) or on Facebook (http://www.facebook.com/JustPlay).