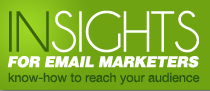 New techniques of targeted email advertising are not well-understood, so we decided to launch publications that would share the best practices
Vancouver, Canada (PRWEB) June 15, 2012
Future Flow Media has launched two new publications on targeted email advertising: Insights for Media Buyers and Insights for Email Marketers are monthly newsletters that provide articles, white papers, tips, case studies, and benchmark data aimed at helping email marketers and media buyers plan and execute more effective email campaigns, particularly in situations where a very specific target audience is hard to reach cost-effectively through traditional online and offline media channels.
"In our work with Fortune 500 companies and major ad agencies we repeatedly see two major problems: email marketers struggle with in-house email address lists that are too small, stale, and unsegmented, and media buyers often face the challenge of engaging specific audiences that are hard-to-reach with traditional channels. New techniques of targeted email advertising can help both of those situations but they are not well-understood, so we decided to launch publications that would share the valuable best practices and information we unearth in the course of our engagements," said Chris O'Neill, Principal Consultant at Future Flow Media.
The first issues of the Insights newsletters include content such as:

5 Questions to Ask When Renting an Email Address List
A New Way to Deliver Messages to Hard-to-Reach Segments
Case Study: Record-Setting Response to a B2B Product Launch
5 Ways to Grow Your Email Address List
How a New Email Welcome Campaign Boosted Click-throughs by 450%
A New Way to Grow Your Opt-in List: Revisiting Email List Rental
Additional content will be published regularly on the new Insights blog.
About Future Flow Media
Through targeted email advertising, Future Flow Media helps emerging and Fortune 500 companies and leading agencies get the most relevant messages in front of audiences that are ready to buy. Future Flow's Enriched Email List Rental is a new class of high-integrity, high-performance direct marketing that combines full-service consulting expertise, a proven campaign optimization framework, and the world's freshest, most targetable permission-based email address list. For more information, visit http://www.futureflowmedia.com.