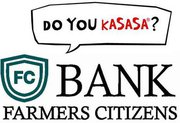 We've not only bolstered our mortgage lending and increased our commercial lending activity, but we've also expanded our geographic footprint.
Dublin, OH (PRWEB) June 18, 2012
Farmers Citizens Bank has opened a new mortgage office in Dublin to accommodate significant growth in its residential lending services.
The 3,600 square-foot office at 5747 Perimeter Drive is now open to the public. It will be staffed by 15 employees with expertise in mortgage and residential lending. Among the services offered at the office are mortgage loan consulting, preparation, pre-approvals, refinancing, closing and any other services associated with residential lending.
Farmers Citizens previously had its mortgage lending department based in its Worthington, Ohio, office, which is a full-service branch. However, growth in its mortgage lending portfolio throughout Central Ohio prompted the community bank to look for a new location that would accommodate more employees and be convenient for customers in greater Columbus. The Dublin office serves new home buyers or existing homeowners interested in refinancing, regardless of whether they are current Farmers Citizens Bank customers.
"Dublin is an ideal location for us," said Louis Torchio, executive vice president of consumer and residential lending. "We are easily accessible for any home buyer or homeowner in the region who is looking for a variety of mortgage loan options, and the space can accommodate our plans for future expansion in residential lending."
Torchio said the bank expects to hire an additional five employees in its mortgage lending unit in Dublin before year's end. As part of its residential lending growth strategy, the bank will work directly with consumers, focus on relationships with realtors and network with other real estate professionals to reach the home-buying community.
Coleman Clougherty, CEO of Farmers Citizens Bank, said the community of Dublin figures into the bank's future growth in an even bigger way. Within the next two years, he said, Farmers Citizens Bank will look to open a new full-service Dublin branch, building upon its Central Ohio presence. The Bucyrus-based bank opened a Worthington branch in 2006 and an Upper Arlington branch in 2009.
"We've been measured in our approach to growth in Central Ohio, and it has proven to be a successful formula that is working out wonderfully for our customers," Clougherty said. "We've not only bolstered our mortgage lending and increased our commercial lending activity, but we've also expanded our geographic footprint."
Among the mortgage loan programs offered by Farmers Citizens Bank:
•Unique jumbo loan program with 90 percent loan-to-value ratio options
•Customized physician loan program for doctors who recently graduated but have large student loan debt and small down payments
•Traditional conventional, FHA and new government loans for homeowners who are "under water" on their homes
About Farmer Citizens Bank
Since 1907, Farmers Citizens Bank has had a tradition of being a locally owned bank and a tradition of proudly serving its customers. With full-service offices in Bucyrus, Cardington, Fredericktown, Upper Arlington, Shiloh and Worthington and a mortgage lending office in Dublin, Farmers Citizens Bank is a wholly owned subsidiary of FC Banc Corp. and is member FDIC and an Equal Housing Lender.