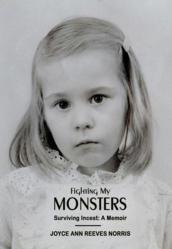 I want my readers to know they don't have to hide or keep secrets. They can make their voices heard.
Cincinnati, OH (PRWEB) September 22, 2012
After years of suffering the effects of childhood sexual abuse, Joyce Ann Reeves Norris made a decision to find her voice and claim her story. The result is "Fighting My Monsters", a stark and compelling story of abuse, family betrayal and survival.
From the age of 5 to 13, Norris suffered sexual abuse at the hands of her grandfather. Her pleas for help went unanswered, and her life spiraled downward. A high school dropout at 16, pregnant at 17, married to an abusive husband by 18, Norris was trapped in the bleak world of a victim.
Through her faith and with the help of a therapist, Norris began a journey of recovery that culminated with the writing of this story. "I decided I was tired of being a victim and a prisoner in my own body," says Norris. "I wanted someone to hear me and know that I was not something to use and throw away. No child or adult should ever have to endure this kind of abuse. Although some of my family members were upset about the book, I needed to do this for myself. I want to heal, and more importantly, I want to help someone else like me. I want my readers to know there is someone else who has gone through what they've gone through, even if they're ashamed and they think they have something to hide."
Her status as published author is something of a surprise to Norris. "I never even dreamed I would write a book. I do not have much education. I quit school at 16 and I never thought I could do anything that good."
Fighting My Monsters - Surviving Incest is available Amazon.com.