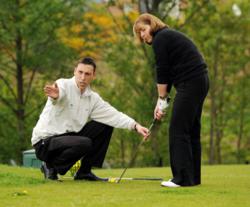 We've had a good trawl around the globe and we can't find any other organisation that claims to have taught as many people to play golf as we have, in such a short space of time
(PRWEB UK) 2 May 2012
World of Golf, a privately owned company, has claimed it is running the world's largest learn to play golf programme. The company, which operates four state of the art driving ranges in New Malden, Croyden, Sidcup and Glasgow, claims it has put over 8,000 adults and children through a six week beginners' course in the last 12 months.
Whilst you might be forgiven for thinking that America or possibly even a country from South East Asia might be a melting pot for organised teaching of the game, it is the UK and specifically the World of Golf programme that is introducing more people to golf than any other single enterprise, that's according to CEO, Grant Wright.
"We've had a good trawl around the globe and we can't find any other organisation that claims to have taught as many people to play golf as we have, in such a short space of time", he says. He added: "We're not just talking about a couple of hours on the range either. This is a proper 6 week course with PGA professionals, at the end of which, the participants are generally amazed at how much they have learned".
A post programme survey confirms that the experience is proving a very worthwhile one, with many participants going on to take further lessons and stepping out on to a golf course for the first time.
Here's what one participant on the Glasgow programme had to say: "Great course for beginners, learnt a lot and now playing some shots I never thought I could play. Excellent."
And another one at New Malden: "I've only had 3 lessons so far but my instructor, has been excellent. He's patient, informative and genuinely seems to care about my development as a golfer."
Editor Notes

World of Golf is owned by Ashtour Ltd
Across the four centres there are
Over 200 driving range bays
20 professional instructors with over 250 years of teaching experience between them
Adults and Children can sign up for separate programmes via the World of Golf website: http://www.worldofgolf.co.uk
Media enquiries
Nick Wake
Grass Roots
nick.wake(at)grg(dot)com
Tel: 01442 829 400