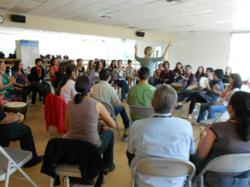 "Introducing HealthRHYTHMS to our health care partners provides yet another innovative and powerful wellness tool to help our members and community."
Sandra Rose, director of Community Relations, CalOptima.

Valencia, CA (PRWEB) November 08, 2012
Remo, Inc., a California-based manufacturer and wellness program developer, reveals a powerful new trend. As the health care landscape changes, CalOptima, a public agency that provides health coverage, is incorporating REMO's cost-effective, HealthRHYTHMS group drumming program as an evidence-based tool to reduce stress and boost well-being in the diverse Orange County, Calif., communities that the agency serves. HealthRHYTHMS® is an evidence-based approach to whole person care that weaves together proven health strategies with group drumming. In a CNN interview, researcher Barry Bittman, MD indicated that this strategy breaks down barriers and establishes opportunities for communication that go far beyond the spoken word. "When this happens we are able to reduce elements of burnout, improve mood states, and reduce employee turnover."
Dr. Jessie Jones, Cal State Fullerton's Health Science Department Chair, Professor and Chair of Cal State Fullerton's Health Science Department and trained HealthRHYTHMS facilitator, gave a drumming presentation for more than four hundred health care providers at a conference in June, 2011 that inspired Cal Optima to collaborate on bringing HealthRHYTHMS to their members. In March, 2012, over thirty-five health care professionals serving breast cancer survivors, Latinos, Pacific Islanders, and delinquent youth in Orange County participated in a weekend training program, hosted by Cal State Fullerton.
This project marks a powerful new trend in public health that could be replicated in other communities. It's a remarkable public health decision to have a third party insurance company to include group drumming as part of the provided health services to the community of Orange County.