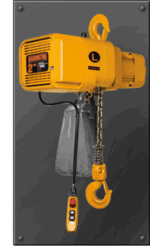 New Brighton, Minnesota (PRWEB) February 15, 2012
Sharrow Lifting Products, an employee owned company that specializes in lifting products, overhead crane and hoist systems, fall equipment repair and product awareness training, proudly announces the opening of their rental department conveniently located at their Twin Cities facility.
Electric hoist rental is the perfect solution to fill those temporary needs without the expense of adding new equipment. The rental fleet equipment is constantly being updated and replenished, the current fleet includes:

Electric Chain Hoists
Manual Chainfall Hoists
Manual Chain Lever Hoists
Manual and Motor Driven Trolleys
Beam Clams
More products to be added soon!
Sharrow lifting products rents the finest equipment available and has highly skilled technicians available to provide assistance in all areas of lifting and rigging. The equipment is fully inspected and service before each rental.
Equipment rental is available at 301 County Road E2 West, New Brighton Minnesota, 55112 or call a Rental Sales Specialists at 651-489-1341:
Steph Orlowski Ext 566
Mark Eide Ext 587
Sharrow is a 100% employee owned company located in New Brighton Minnesota. They have been in existence since 1952. Sharrow Lifting Products specializes in industrial lifting products such as slings, lifting shackles, hoists, cranes and jib cranes, swivel hoist rings, and all other specialty lifting devices. They also specialize in inspection, repair and testing of lifting products and equipment, as well product awareness training. For more information about Sharrow Lifting Products go to their website http://www.ccsharrow.com.
# # #