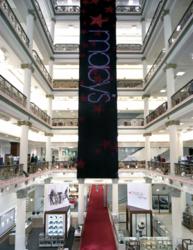 We lauded the department store for being aggressive and willing to take chances.
Cincinnati, OH (PRWEB) August 16, 2012
Macy's Inc., recently named VMSD magazine's Peter Glen Retailer of the Year, will be the focus of a special session at the 2012 International Retail Design Conference in Chicago, September 5-7 at the Renaissance Chicago Downtown.
Amy Hanson, Macy's executive vp, property development and credit and customer service, will accept the award on Wednesday, September 5 and discuss the role of store design and visual merchandising, and share the brand's story.
"Macy's Inc. is a leading example within the department store of a retailer that has adapted and evolved with its shoppers' needs," said VMSD editor, Anne Dinardo. "We lauded the department store for being aggressive and willing to take chances."
The Peter Glen Retailer of the Year Award honors VMSD's former columnist, Peter Glen, who died in 2001 following a career in retail as a designer, consultant, industry critic and motivational speaker.
The award goes annually to the company that meets his demanding criteria for smart retailing, market awareness, innovation and an intuitive understanding of who its customers are and what they want, need and expect. Recent winners include Whole Foods, Forever 21, Urban Outfitters, Costco and Best Buy.
Other highlights of the 2012 program include keynote presentations by Bob Phibbs, Author, The Retail Doctor's Guide to Growing Your Business, Francesco Cordua, Director of Retail Design for McDonald's and Marian Salzman, CEO of PR Operations for Euro RSCG Worldwide PR, North America; sessions on integrating technology into the store experience, a retail tour of Australia, new branding strategies for urban "big" boxes and much more; networking roundtables; the seventh annual Iron Merchant Visual Merchandising Challenge; and Chicago architecture and design tours.
For more information, visit irdconline.com.
ABOUT VMSD
Cincinnati-based VMSD (Visual Merchandising and Store Design) is the leading magazine for retail designers and store display professionals, serving the retail industry since 1922. Every month, VMSD showcases the latest store designs and visual displays, presents merchandising strategies and new products, and reports on industry news and events. Learn more at vmsd.com.
ABOUT IRDC
Now in its twelfth year, the International Retail Design Conference (IRDC) is the premier educational and networking event for the store design and visual merchandising community. Presented by VMSD magazine, IRDC combines inspirational sessions, expert Q&A, roundtable discussions, case studies and networking events into three productive days, drawing as many as 400 attendees from the U.S. and abroad. Learn more at irdconline.com.