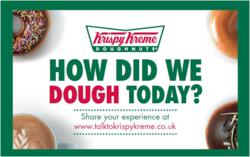 We wanted to move towards a customer feedback programme focussed on the actual customer's views and needs.
Birmingham, UK (PRWEB UK) 23 October 2012
Premium doughnut retailer Krispy Kreme UK has announced a development in its customer strategy, now encompassing a feedback programme which measures the experience of real customers at its UK retail outlets.
The company has launched a customer experience management (CEM) programme with industry experts Empathica across its 50-strong UK store estate.
"We wanted to move towards a customer feedback programme focussed on the actual customer's views and needs" said Judith Denby, Chief Marketing Officer for Krispy Kreme.
"Using Empathica's expertise and technology to gather feedback from our customers allows us to refine our products, packaging, the way they are promoted and signposted in-store, and improve on all aspects of the Krispy Kreme experience."
Guests are prompted to complete an online feedback survey via bespoke invitations actively handed out by store staff featuring prominent QR codes that push users directly to an online survey page. Respondents are asked a tailored set of questions specific to their experience, with the insights being fed back directly to relevant Krispy Kreme teams, from individual stores to the brand level.
Denby continued: "The new programme, which we've called 'One Step Ahead' internally, is designed to ensure that our customers continue to get exceptional service and to identify ways in which we can improve and evolve their experience. Gathering feedback on this scale has quickly become an essential tool for our business, both in terms of generating insights and recognising our employees when they exceed our customers' expectations."
The Empathica system is programmed to recognise customers that have had a positive experience, and simultaneously delivers employee specific feedback alert to the location manager, as well as prompting the customer to share that experience with their social media networks via Empathica's patent-pending advocacy engine GoRecommendTM.
Denby added: "We also use GoRecommendTM to promote our range of social media assets, in addition to amplifying customer recommendations. It is hugely motivating for our teams to see customers recommending their particular store, in addition to the brand as a whole."
Gary Topiol, EMEA managing director for Empathica, commented: "We're delighted to have implemented such a forward thinking CEM programme for a nationally recognised brand. More often than not, very powerful insights are gained within the initial stages of a programme, particularly for brands switching from a mystery shopper style approach. I'm certain that the programme will deliver actionable insights for Krispy Kreme and help the brand to drive long term loyalty and advocacy in their customer base."
About Empathica
Empathica is the leading provider of social Customer Experience Management (CEM) programmes to the world's most respected multi-unit brands in the retail, hospitality, banking and petro sectors. Its rich analysis of survey data using state-of-the-art surveying and dashboard reporting software allows for performance-improvement solutions, evidence-based marketing insights, and customer experience management consulting.
Annually, Empathica's 30 million customer surveys in 25 languages reach more than 70,000 locations in over 50 countries. A privately-held organisation, Empathica is headquartered in Toronto, Canada, has a European office in Birmingham, England and executive consultant offices throughout the United States. For more information about deriving actionable insights that enhance a brand's operational excellence, visit Empathica at http://www.empathica.com.
Follow us on Twitter - @EmpathicaUK
About Krispy Kreme
Named the highest new entry in the annual 2009/10 Superbrands survey, Krispy Kreme UK currently operates 50 stores and has a presence in over 300 cabinets with retail partners including Tesco outlets across the country. It entered the UK market in October 2003 in London and has since opened Hotlight stores in key cities including Manchester, Leeds, Portsmouth, Newcastle, Birmingham and Bristol.
Krispy Kreme has a number of kiosks within London stations including, Waterloo, Victoria, Paddington and Euston, targeting commuters travelling to work. These kiosks have fresh doughnuts delivered daily. To check out your nearest store, go to http://www.krispykreme.co.uk.
Traditionally, Krispy Kremes are sold in dozens – a unique taste treat to be shared and enjoyed with friends and family.
The full Krispy Kreme range will be made fresh daily at the Metrocentre Hotlight store.

A Single Original Glazed® doughnut costs £1.35
A Single Filled doughnut costs from £1.50 - £1.60
An Original Dozen costs £7.95, an Assorted Dozen (a selection of our 12 best sellers) costs £9.95 or Choose Your Own Dozen for £10.95
Krispy Kreme UK can be found at:
http://www.krispykreme.co.uk, http://www.facebook.com/krispykremeUK, http://www.twitter.com/krispykremeUK