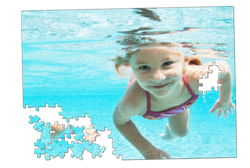 MailPix makes it easy to find the perfect photo, too, with it's one-of-a-kind integration with Facebook and Instagram. Now you can surprise your friends with photo gifts made from photos shared on their own wall, quickly and affordably, at MailPix.
Huntington Beach, Calif. (PRWEB) November 20, 2012
MailPix.com, the new photo-printing site, announces its 2012 Holiday Gift Guide featuring unique gift ideas for families of all sizes and budgets.

Holiday Ornaments -- Decorate your tree with photos by creating personalized ornaments for the holiday, from $12.00.
Personalized Mugs -- A great gift for anyone during the holidays, custom mugs can really brighten up your morning with a warm memory, from $11.00
Custom Bed Set -- Decorate your bed with photos! Buy two Pillow Cases with a Custom Blanket and automatically save $15 on your order! No promo code necessary.
Puzzles for Kids -- Use a photo of your child, or an artistic photo you or they have taken, and create a personalized puzzle, for $23. The family can have fun piecing together the memory. The puzzle includes a custom tin.
Custom Photo Books -- Gather a year of photos and create a masterpiece to give to the grandparents (and keep for yourself!), starting at $7.00.
Travel Set -- Know a road warrior or busy mom? Give them a travel mug and keychain to take photos with them while on the run. Order these 2 items together for just $24 and save $6, no promo code necessary.
"Personalized photo gifts are the solution for most gift-giving situations," says Fred H. Lerner, president and CEO. "A gift made with photos is special because it is personal and one of a kind. MailPix makes it easy to find the perfect photo, too, with it's one-of-a-kind integration with Facebook and Instagram. Now you can surprise your friends with photo gifts made from photos shared on their own wall, quickly and affordably, at MailPix."