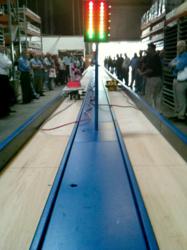 Langley, BC (PRWEB) September 13, 2012
McKillican International, Accuride International, and the Belt Sander Racing Association (BSRA) are revving up for a Vendor Expo and Belt Sander Race Event planned for Friday, October 5, 2012 at McKillican's branch located at 20233 – 100A Avenue, Langley, BC.
The Vendor Expo will take place from 10:30 a.m. to 1:30 p.m., with the belt sander races kicking off at 1:30 p.m. A barbeque lunch will be served from 11:30 a.m. to 1:30 p.m. See images from last year's event here: http://vimeo.com/29249107.
Attendees and racers alike are guaranteed an exciting show as stock and modified belt sanders leap from the starting line to roar down the 75-foot wooden track. Entrants go all out, battling for the trophies awarded for top speeds and good looks. These events draw an array of colorful and creatively festooned sanders with themes that range from sea creatures to Elvis.
Those wishing to compete in the belt sander race are encouraged to register early to reserve a place in the competition. To learn more about the BSRA and belt sander racing, or to register to enter a sander in the race, visit http://www.accuride.com/BSRA.
Accuride International is a leader in the design and manufacture of precision slide products for a variety of applications. For more information, visit http://www.accuride.com.
# # #