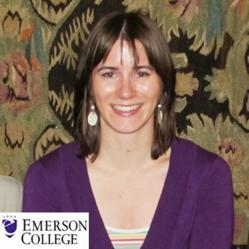 I hope to be a voice for my generation of veterans
Kirkland, WA (PRWEB) June 29, 2012
In June SR Education Group awarded the $2,000 Military Scholarship to Lauren Johnson, a veteran of the conflict in Afghanistan. She is currently earning her MFA in creative writing from Emerson College in Boston, Massachusetts.
Lauren, the daughter of a military nurse, enrolled in Air Force ROTC when she was 17 and began her active-duty service four years later as a public affairs officer. In her position she told the stories of her colleagues through journalism and community involvement. Later, she worked on the Provincial Reconstruction Team in Afghanistan where she observed firsthand the difficulties of war.
While she reported on the stories of reconstruction, she often found herself with more questions than answers. She saw hostile Afghans, bullet-ridden corpses, and close calls with her own team. After returning home, she continued to worry about her comrades in the war zone. Lauren's traumatic experiences and worry led to her developing Chronic Adjustment Disorder, which she describes as "PTSD lite."
Lauren has turned to writing to help process her struggles, to bring healing to other veterans, and to raise awareness of veterans' issues in America. As a starting point, Lauren is seeking publication for her MFA thesis, a collection of essays about her military experience. After graduation she will continue to advocate for veterans' affairs through her writing. She says, "I hope to be a voice for my generation of veterans. In telling my story I seek to humanize the war experience: to give a name and a face to the string of policies and numbers, to reduce the stigma around PTSD and military mental health care, and to promote healing and understanding. I want to start a conversation that desperately needs to be had."
By awarding Lauren the June 2012 Military Scholarship, SR Education Group hopes to play a small part in turning her amazing dreams into reality.
Finalists
There were five outstanding finalists who did not win the June 2012 Military Scholarship. SR Education Group would like to bring attention to their stories and to highlight the fact that there are still many military students who deserve our help. Finalists were awarded $100.
Terrell Glosson is a US Army reservist who will soon be on active duty. He is earning a nursing degree at South Arkansas Community College. Terrell hopes to work in a VA hospital and will continue his studies until he becomes a nurse practitioner.
Lacie Smithee is the wife of an active duty soldier who just returned from Afghanistan. She is earning a BA in special education from Western Governors University and hopes to use her degree to teach students in a struggling school district.
Karsten Ray served in the Army for 12 years in logistics. His organizational strengths and a desire to help others through medicine have led him to the field of healthcare administration. He is studying at the University of Phoenix.
William Corkum began his military career as a smart-mouthed, sarcastic kid but quickly learned lessons in honor, commitment, and service. He now has a family and is studying cyber security and networking at Clark State Community College. His degree offers a chance for him to care for his family and provide a career that he loves.
Claytonia Spriggs decided to join the Marine Corps at 16 years of age. After three years of enlisted service, she is now pursuing a degree in cyber security from the University of Maryland University College.
About the Military Scholarship
The members of the U.S. Armed Forces display incredible dedication and sacrifice for our country. SR Education Group feels a strong obligation to return the service as we are able. The Military Scholarship is awarded to an active soldier, veteran, or immediate family member with great financial need, a desire to serve, and a clear plan for success. To apply, enrolled students must answer three open-ended questions to provide a clear picture of how the award will contribute to their life goals and how they hope to impact the world around them. The next deadline to apply is 7/31/2012.
About SR Education Group
Since the company was founded in 2004, SR Education Group has been dedicated to building the most authoritative websites for students making career-related education and financing decisions. Their websites help students decide which degree best fits their goals and provide objective information and data on hundreds of colleges. Their flagship site, GuidetoOnlineSchools.com, features thousands of reviews from online college students and releases Online College Rankings every year to ensure that students can receive maximum value from their college.