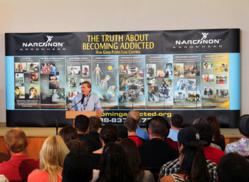 Los Angeles, CA (PRWEB) May 05, 2012
Narconon International hosted its 2012 Narconon Executive Directors Conference held in Tulsa, OK, April 27th - April 29th. Executive Directors and senior staff from Narconon centers and groups around the world gathered to participate in a full schedule of training, planning and celebration of unprecedented expansion. 
Guests of the International conference, some of whom have worked in the network for up to 40 years, arrived from centers in the Eastern and Western United States, United Kingdom, Nepal, Russia, Sweden, Italy, Colombia, Ecuador, Mexico and South Africa.
The first day's schedule was highlighted with a trip to Narconon Arrowhead, the international training center of the Narconon network. The visit consisted of a tour of the center and attending its weekly graduation with over 200 students who are studying the Narconon program. There was not a dry eye left in the room as students spoke of their successes and life changing wins.
The Narconon program is comprised of eight parts and students graduate from each one. The first course is a drug-free withdrawal followed by the Narconon New Life Detoxification program which removes harmful drug and other toxins stored in body tissue which process helps reduce persistent drug cravings. Life skills courses follow that help the student improve his confront and communication and develop his ability to discover why he turned to drugs in the first place. Three out of four Narconon graduates go on to live productive drug free live.
Awards to the various levels of Narconon centers and groups who achieved the most expansion last year were awarded Saturday evening by Narconon International President Clark Carr. First Place Winners included: Narconon Freedom Center in Michigan for Residential Centers, Narconon of Georgia for Outpatient Centers, and Europe Drug Prevention for Drug Education.
"We are proud of our Narconon drug rehab and drug prevention centers and the substantial worldwide network expansion this year. It is a rewarding career to provide effective drug education programs to help keep our young people off drugs or to provide rehab programs to help addicts truly free themselves from alcohol and other drugs," says Carr.
The Narconon drug rehabilitation and education program was founded in 1966 by heroin addict William Benitez. It uses drug-free rehabilitation and social education methodology based on research by American author and humanitarian L. Ron Hubbard. For these last four decades, Narconon staffs have dedicated themselves to eliminating drug abuse and drug addiction through drug prevention, education and rehabilitation. The Narconon drug rehabilitation program routinely results in drug-free lives, the majority of its graduates going on to live stable, productive, drug-free lives. These Narconon graduates, whether drug-free for ten, twenty or even 45 years, demonstrate that recovery is really possible. If you know someone struggling with alcohol addiction or drug abuse, or are looking for a career in substance abuse, visit http://www.narconon.org or call 877-237-3307.