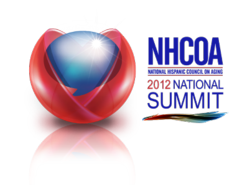 "We see calls to cut social programs at a time when seniors are telling us they are experiencing poor housing conditions, lack of access to adequate health care, and many levels of elder abuse." - Dr. Yanira Cruz, NHCOA President and CEO
Washington, DC (PRWEB) September 30, 2012
The National Hispanic Council on Aging (NHCOA)- the leading organization working to improve the lives of Hispanic older adults, their families, and caregivers- will highlight stories from the field that directly relate to national aging issues at the National Summit on October 3, 2012 at the National Press Club:
The stories NHCOA collected during its 2012 Promoting Communities of Success Regional Meetings were both heart-breaking and appalling: older adults who are lucky enough to eat once a day, and routinely go to bed hungry. One senior in California said her only form of income was an $836 Social Security check, and that she paid $800 in rent. She lives on a little more than $1 per day. A majority of seniors in each city would repeatedly ask, often with tears in their eyes, to protect Medicare from budget cuts.
These are some examples of the stories highlighted in NHCOA's brief, "State of Hispanic Older Adults: An Analysis and Highlights from the Field," which gives a real face to existing national data on issues impacting Latino seniors throughout the country. It also offers recommendations to address the specific needs and concerns they voiced. These concerns will be discussed at NHCOA's 2012 National Summit, the national platform to offer meaningful solutions to the issues impacting Hispanic older adults, which will feature a keynote address by HHS Secretary Kathleen Sebelius.
"We see calls to cut social programs at a time when seniors are telling us they are experiencing poor housing conditions, lack of access to adequate health care, and many levels of elder abuse," said Dr. Yanira Cruz, NHCOA President and CEO. "We should not take away from those who gave us the most, which is why we are offering these recommendations and calling both parties to protect the programs that are most vital to our seniors."
To download the Executive Summary of "State of Hispanic Older Adults: An Analysis and Highlights from the Field," visit the NHCOA website. For interview requests or an embargoed copy of the brief, please e-mail melisa at melisadiaz dot com.
MEDIA ADVISORY
WHEN: Wednesday, October 3, 2012 from 8:45 am - 1:00 pm ET
Registration and continental breakfast starts at 7:30am.
WHERE: National Press Club, 13th Floor Ballroom
529 14th Street NW
Washington, DC 20045