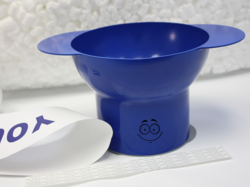 We used to hold mini Doodle-jump and Angry Birds tournaments to figure out who would be stuck with [refilling the old dispenser].
Ft. Lauderdale, Fla. (PRWEB) November 13, 2012
Two tech guys at a video game design firm go "off the grid" to design a non-tech gadget that's for the shipping supplies industry instead. PeanutBuddy is designed to turn a standard bag of packing peanuts into an overhead dispenser without taking up the large space required by other peanut dispensers on the market. The creators designed the product after noticing that there were no shipping peanut dispensers small enough for small to medium-sized businesses (and "ebay shippers") without a lot of space.
"We designed this out of necessity for our own business. Plus, peanut dispensers needed to be hacked," says co-designer Dallas Maas. "We used an old traditional peanut dispenser before, and we hated refilling it so much that we used to hold mini Doodle-jump and Angry Birds tournaments to figure out who would be stuck with the task."
With the PeanutBuddy, they no longer have the arduous task of refilling those peanut dispensers, which were much too large for the space they had. Their shipping space now seems much larger because the four or five bags that once took up the corner are now hanging on the wall as functional peanut dispensers. Four PeanutBuddy dispensers cost less than one of the larger peanut dispensers currently available.
Currently Team PeanutBuddy is seeking funds to complete the design of their new shipping peanut dispenser and to start manufacturing it. You may view the demo and pre-order or back their project at Indiegogo.com, a crowd-funding website. Their goal is to raise $10,000 toward the completion of their product launch, and their stretch goal is $25,000, which would enable them to upgrade the design of the product.
Thanks to the tech background of PeanutBuddy's designers, there are also two apps designed to enhance the product's use. One is a shipping scale app that is able to weigh items up to 10 pounds. The company is also working on an app that will make tracking shipping inventory easier. So far shipping supplies giant Uline has shown some early interest in their product.
In addition to PeanutBuddy, the company is also offering Bud-Nuts, which are eco-friendly, organic packing peanuts. Bud-Nuts are biodegradable and made of organic starch instead of the standard polystyrene material, which is harmful to the environment. Bud-Nuts decompose in water and leave no toxic waste behind. All bags of Bud-Nuts come with a free donut collar and suspension strap. They are available in white and also a Pac-man-inspired multi-colored variety that gets its colors from the hues of the ghosts.
PeanutBuddy is expected to begin shipping in December. The PeanutBuddy dispenser system is patent pending.
About the Creators
PeanutBuddy was created by Dallas and Patrick. The two have been designing video game software and accessories for more than 5 years, for various clients, including a line of their own video game related products.