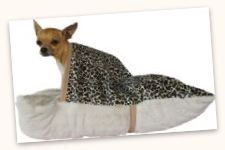 "People see their pets as a member of the family and each year they become a bigger part of their family's holiday traditions including receiving holiday gifts," said Jennifer Kirk, owner of PoshPuppyBoutique.com.
Rocklin, CA (PRWEB) November 13, 2012
PoshPuppyBoutique.com, the top online dog boutique, features more than 15,000 pet products. From practical to glamorous, there is something to treat every special dog. This holiday season Posh Puppy has compiled their list of the top 10 gifts expected to be hot sellers for 2012.
1. Pet Pockets – Let your cuddly dog lounge with comfort in a cozy pet pocket. The outer sham is made of the softest faux fur fabric and you choose the pillow to fill it with—from hypo-allergenic to decadent down. Machine washable. $70
2. Teacup Dog Bowls – Dine in style with the porcelain tea cup food and water bowls set with 18kt gold lettering. Lead-free and dishwasher safe. $38
3. Renew SPA Gift Set – Show your dog a life of luxury. The SPA Lavish Your Pet collection, found in the world's most prestigious pet salons, contain refreshing vanilla, stimulating milk thistle, essential oils and other plant elements known to enhance your pet's well being. $35
4. Paw Print Keepsake- Give a gift of love and memories with this perfect stocking stuffer. The kit includes no-mess, air drying impression material and easy-to-follow instructions. $20
5. Loofah Playtime Set – Keep your baby healthy and happy with a 100% USDA certified organic vegetable dental toy that naturally cleans your dog's teeth and gums. $15
6. "Bond Girl" Smuggler Carrier Bag – Take your dog out on the town and do it in style. This pet purse contains a support board with Velcro for easy removal and cleaning, mesh ventilation windows, and two separate compartments with plenty of room for personal items. $285
7. Miami Dog Collar in Gold– Your fur baby will be the belle of the ball in this 100% genuine leather coller studded with crystals. S and M $40
8. X'Mas Shirt Dog Collar – Holiday parties, outings, and dinners – it's time to dress to impress! We are talking about your pet of course! This high style collar with detachable tie is a great way to dress up an evening. XXS-XXL $25
9. Fleece Hoodie with Embroidered Snowflake– This hoodie is warm, festive and so so soft…yet another reason to cuddle! Accented with a pompom on the hood and three white buttons in the front. XS-XL $30
10. Miss Santa Baby Dog Costume – This perfectly precious outfit is adorned with bows, a drawstring bonnet and mistletoe accents. Easy-to-wear front closure. XS-XL $38
For those looking for that super high end, "price is no object" gift for their dog:

Swarovski Crystal Caviar with Paw Lead – Bling! Bling! Just when you thought there was nothing left to be "bling-ed"...something to make even your daily walk sparkle! For dogs from mini to large $205
Chrome Bones Vintage Collar with Swarovski Crystals in Red – Distinguished doggies will love this blinged collar featuring muted shades of silver along the crevices of this premium soft suede-like crocodile leather upper. Uniquely combined with startling gun color Swarovski crystals enhancing the subtle silver shades. XS-M $245
Chrome Bones Imperial Exotic Carrier– Beautiful custom made carrier to match even the most exquisive of tastes. Made of genuine Alligator in black shimmer- precision workmanship with originality certificate, top handle designed gun metal logo plate featuring customized initials in lining. Special order so plan for eight week production and delivery. You are contributing to the repopulation program of the Caiman species, under the supervision of the Indonesian Ministry of Natural Resources and the Convention on International Trade in Endangered Species. All products are part of a sustainable use program that benefit people and wildlife and contribute to breed another animal into the wildlife. $5,830
"The pet industry, especially sales of items for dogs, is growing at a breathtaking rate," explained Jennifer Kirk, owner of PoshPuppyBoutique.com. "People see their pets as a member of the family and each year they become a bigger part of the holiday traditions of the family including receiving holiday gifts."
To see more of PoshPuppyBoutique.com's selection of unique and memorable pet items with an expansive selection for dogs, visit http://www.poshpuppyboutique.com or find them on Facebook.
About PoshPuppyBoutique.com
Posh Puppy Boutique provides an online location where upscale pet owners can treat their four-legged friends like family members. Whether it's an outfit for a dressy occasion, or an everyday collar showcasing your pet's unique personality, the Posh Puppy Boutique sells it. Their gigantic selection for dogs big and small is one key reason why the Posh Puppy Boutique was picked by Disney Studios as an official partner in the movie Beverly Hills Chihuahua 2, now available on Blu-ray and DVD. They provided the costumes and accessories seen by millions of viewers. PoshPuppyBoutique.com has also been featured on the reality series Tori & Dean: sTORIbook Weddings featuring celebrity Tori Spelling.