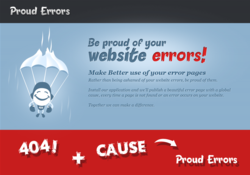 Let's compensate errors with a better cause for life. Let's make world a better place - one error at a time!
(PRWEB) November 21, 2012
Ruby on Rails development shop, Idyllic Software, in collaboration with Global Giving have come up with a new website Proud Errors. Proud Errors camouflages the error pages of websites with social causes.
"Our RoR development team believes", said Jinesh Parekh, the Director at Idyllic Software, "you don't need money to make difference in society. What you need is intention!"
This 'think-different, make-difference' RoR team developed a web application that provides enrolled websites with an easy code snippet. Thereafter, every error page (#404) and page not found (#500) for the partner websites display a global cause. Partner websites have a flexibility to choose causes they wish to support from a range of 2000 plus causes, courtesy GlobalGiving. This way a company can perform corporate social responsibility with ease.
Startup Guru Founder Brian Tsuchiya said, "Most of small businesses I come across leave CSR for big companies. Proud Errors gives such companies a chance to be conscious and make a difference in society". He further added, "It is even beneficial for these companies. Standing for a cause adds value to their brand image. Further, supporting a cause from your own domain stresses how committed a company you are. For example, a university in Ohio supporting "Send 50 Students to High School in Belize" cause is a university committed to education."
"Although it is a weekend project, we believe it has the power to spread the word of awareness and raise funds on a gamut of causes." said Gaurav Gaglani, RoR Consultant & Software Director at Idyllic Software.
Gaurav added, "Let's compensate errors with a better cause for life. Let's make world a better place - one error at a time!"