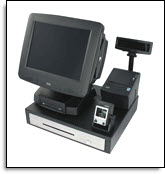 By updating the Harbortouch POS software and including new features, many delivery and quick service restaurants can benefit from the simplicity that using POS systems can offer, says Paul Dion, Westshore Processing CEO.
Sarasota, FL (PRWEB) June 10, 2012
The restaurant POS options have widened thanks to WestShore Processing, who are offering a quick service restaurant and delivery add-on to their state of the art restaurant POS offer.
These new quick service and delivery systems allow business owners to save precious time and money with the features that come with this specific system. One of the most helpful features of the delivery mode is driver management. Managers can setup specific drivers to make certain deliveries. Restaurateurs that have been in the delivery side of the industry know how important it is to be able to view each delivery order's details and the wait time that the customers has been experiencing, which is also another great feature of the delivery POS system.
Delivery time will also be greatly reduced with the option to print map details for the driver if he or she is unfamiliar with the area. This option also gives the driver the ability to create a multiple stop directions, greater reducing time and exponentially increasing efficiency.
Customer management is also well integrated into the new options for delivery. When a customer calls up, the integrated caller ID will pull up each customers contact information as well as previous orders and assign each call with an order in one seamless step. This customer management software makes offering a loyalty program easy and effective tool for direct marketing.
Several other features that come built into the system are; simplified menu changes, customizable item and feature discounts which will create daily specials and coupons as well as happy hour pricing, a split checks feature that makes it very simple for the customer to decide how to split the check and to transfer tickets between servers, and an amazing employee management system that keeps track of clock-ins and outs. The system will also send detailed breakdown reports of employee hours and corresponding productivity reports.
About WestShore Processing:
WSP is a leading distributor of restaurant focused POS (point of sale) systems and offers their remarkable "free" program which gives restaurant owners amazing system with no up-front costs. Included in the system is custom programming, professional installation and 24/7 support. For more information please visit http://www.restaurantpos1.com